Late fan's love of Kilmarnock can inspire team - Kenny Shiels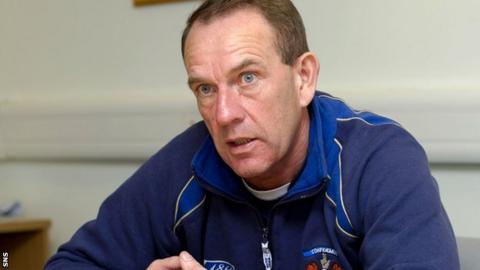 Kenny Shiels says giving fan Jim Haswell a fitting tribute can motivate his Kilmarnock team in Wednesday's rearranged match with Hibernian.
Mr Haswell, 48, died in hospital after becoming ill during Killie's home game against Hibs on Sunday 5 May.
"It has given us inspiration," said Shiels. "We want to celebrate his life. He was a really committed supporter.
"The supporters want to come to connect with him and we want to connect with him."
The death of Mr Haswell, who had missed only one Kilmarnock game in 17 years, would leave "a void", said the Killie manager but he believes the match provides the chance for fans to support his next of kin.
"It's the first game that Kilmarnock have played in an awful lot of years where he has been absent," he told BBC Scotland.
"He will be there in spirit. His family will be there to pay tribute not only to Jim but to his fellow supporters.
"I really want the supporters to come out and show that they are behind Jim and his family.
"Players are human beings as well. Football becomes the most important thing in your life. That's the way Jim was.
"I draw so much affinity with him as manager of the club. That bonds me with him.
"It must have been a really sad occasion for his family when he left home to watch his favourite team and he didn't return."
After being so despondent at not clinching a top-six finish in the Scottish Premier League, the Northern Irishman can guide his team to a guaranteed seventh place if they beat Pat Fenlon's side and follow that with a home win over St Mirren in their final match of the season on Saturday.
"It's deja vu because when we were going into the end of March and beginning of April we had two home games where one victory would have put us into the top six," the manager continued.
"We failed to make the top six by something like 24 seconds and that was hard to take.
"Football kicks you and then you get up again and you get some resurrection from a good performance and we want to put ourselves where we are modestly improving things."
With six wins and eight draws away from home, two wins at Rugby Park in the coming days would improve their match stats for games at that stadium: five wins, four draws and eight losses.
"Our away form has been fantastic," said Shiels.
"We are probably victims of a club with a really big and good stadium and unfortunately there are a lot of empty seats in it.
"Ambience can have a negative impact if it is not conducive but we can definitely do much better on our home turf."
Young forward Chris Johnston was named top Under-20 player of the season by the SPL's sponsors, recognition that pleased his manager.
"He's got a great future in football and he's got a stage now to express himself," said Shiels of the 18-year-old.
"Other young players are looking at Kilmarnock as being a good option for them. We want to nurture them.
"Chris needs to improve, as does every young player who ever played the game. He's a modest boy and there is no way this will affect him."