Colin Calderwood: Play-off final will 'invigorate' Northampton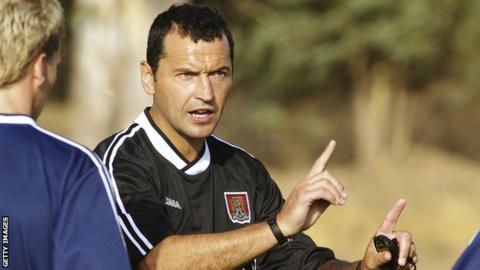 Northampton Town's former manager Colin Calderwood says neither the Cobblers nor Bradford will feel tired going into the League Two play-off final.
It will be Northampton's 56th game of the season, and Bradford's 64th after their run to the League Cup final.
Calderwood, who led Northampton to promotion in 2006, told the BBC: "You're invigorated by the play-offs.
"You don't feel the tiredness until you get the wrong result and only then you feel you've got nothing else to give."
Northampton finished as runners-up in League Two in 2005/06 after two seasons of failing to reach the play-off final.
"We were desperate," said Calderwood, now assistant manager at Norwich City.
"Credit to the chairman [David Cardoza], he stuck with me. That's my abiding memory - the loyalty of the chairman and the determination to see it through.
"People dismiss it because it's the bottom league, but it's the same thrill, getting a promotion."
Calderwood sees similarities between his side and Aidy Boothroyd's current Northampton squad.
"We had experience in the team - Sean Dyche, Ian Taylor, Scott McGleish, Lee Harper and Martin Smith," he said.
"If I told you the wages they were on, you wouldn't believe it. It was a lot less than people would imagine.
"I brought in Dyche and Aidy has brought in Clarke Carlisle. That experienced, hardened centre-half is a good starting point, especially at that level.
"I always thought the appointment of Aidy would be a very, very good one."