Ebbsfleet: Peter Varney confident of KEH Sports Ltd takeover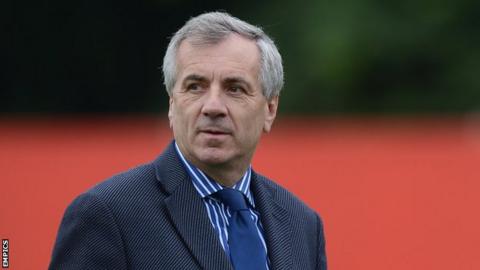 Peter Varney is confident the group he is fronting, KEH Sports Limited, can complete their takeover of Ebbsfleet by the end of the month.
MyFootballClub, which owns 75% of the club, voted in favour of the takeover.
Varney told BBC Radio Kent: "There are other issues which need to be resolved which we will be working on.
"There is a process of due diligence that will take place. Everything is geared up to try and complete the takeover by 31 May."
He added: "There is a lot of work which went on before we got to the offer, so I am confident about the key things, but we need lawyers and accountants to ratify what we have seen."
Varney was previously chief executive at Charlton Athletic, while KEH Sports Limited [KSL] is a newly-formed subsidiary of Kuwaiti European Holdings Company.
Ebbsfleet currently have debts of over £400,000, are in arrears in payments on HM Revenue and Customs and are the subject of a winding-up order from the administrator of Fleet Leisure Limited, which is scheduled to be heard in the High Court next month.
KSL's proposal includes a payment of £10,000 for the entire share capital of the club, an offer of 10 pence in the pound to settle all loans to the club, a proposed transfer budget of £100,000 for next season, along with plans for a new stand at Stonebridge Road.
MyFootballClub, the website which has owned the Kent outfit since February 2009, held a poll of its members on Monday, with 96% of them voting to accept the takeover.
Varney is now keen to secure the remaining 25% of shares, which are held by former Fleet chairmen Brian Kilcullen and Phil Sonsara and numerous minor shareholders.
"This is going to be 100% control of the club, because of the level of investment coming in from the new owners," Varney said.
"We have been working on that and we are very confident we will reach the total we require in the next 24 or 48 hours.
"At the moment we are not at that total but we expect us to be very soon.
"It is very important with the financial situation at Ebbsfleet, with players' wages not being paid for some, winding-up orders flying around and threats from creditors, that we get this whole financial mess at the club sorted out.
"That is best addressed by the business being in KSL's ownership."
Varney has given his assurances that KSL will be able to stabilise the club and that the Kuwaiti consortium are committed to rebuilding.
"When we take over the club we will be entirely debt-free," he said.
"With these owners, any money coming into the club will be equity.
"It is not money coming in as loans to go against future assets. It is a cash injection to turn the club around and point it back in the right direction.
"When I first got involved [with KSL] we talked about various options. You can go in at various different levels but what has always appealed to me is to take a club which is effectively broken and trying to create a real community club from the ashes of that.
"I am based not far from Ebbsfleet and it is and attraction for me while KSL aim to be active in the M25 corridor.
"The owner is an English football fanatic and he wants to build a club from scratch. There is a sense of achievement in that."