Mark Gower released early from Swansea City contract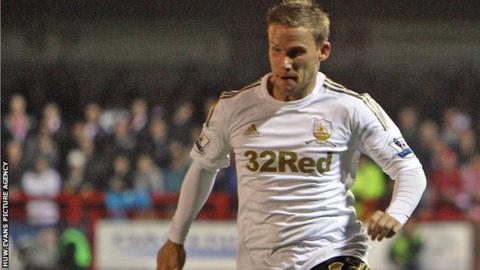 Midfielder Mark Gower has agreed to terminate his contract to end a five-year spell with Swansea City.
Gower has been on loan at Charlton Athletic since March and ends his deal at the Liberty Stadium a month early.
The 34-year-old featured regularly in Swansea's first Premier League season but made only three appearances this season under Michael Laudrup.
"I'm sad to be leaving, but it is in the best interests of both myself and the club," said Gower.
"It could not have gone much better for me. The club has only gone in one direction and that's up."
Having helped Swansea into the top flight through the Championship play-offs in 2011, Gower enjoyed a successful start to life in the Premier League under former manager Brendan Rodgers.
By November he was statistically the league's most creative midfielder in terms of goal-scoring chances created, as Swansea defied pre-season predictions as relegation candidates.
"What we have achieved at Swansea has been incredible and beyond our wildest dreams," said Gower, who joined Swansea from Southend in 2008.
"If someone had said to me the day I signed here that we'd get into the Premier League, win the League Cup and get into Europe then I'd need some convincing.
"But that's what we have done, and everyone here has played their part and should feel so proud with everything that has been achieved."
Gower started his career at Tottenham Hotspur before playing for Motherwell, Barnet and then Southend.
He was brought to Swansea on a free transfer during Roberto Martinez's reign, joining the side promoted to the Championship as League One champions.
Gower went on to make 145 appearances for the club, scoring three goals - including two in the run-in to the Championship play-offs in 2011.
After failing to feature in Laudrup's plans this season he was loaned to Championship club Charlton towards the end of this season, making six appearances as the Addicks fell three points short of a place in the play-offs.
"Swansea were new to the Championship when I arrived and I thought we would consolidate in the division for a while," recalled Gower.
"But we went close to the play-offs on a few occasions before winning it at Wembley.
"The play-off final was the best moment of my career. To be a part of that game - and winning promotion to the Premier League - is something I will take to my grave."