Manuel Pellegrini: Can 'The Engineer' fix Manchester City?
By Andy West
European football writer
Last updated on .From the section Football463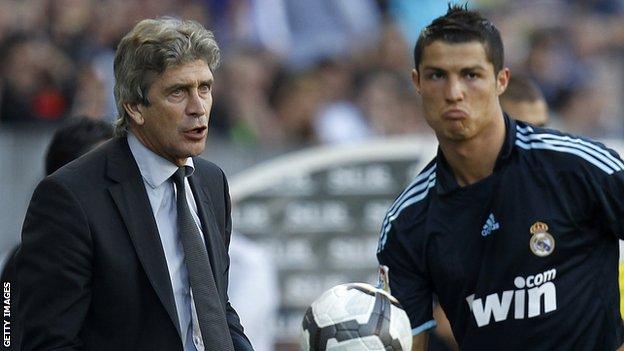 Less than three years ago, Manuel Pellegrini was appointed to manage Malaga, a team dubbed "the Manchester City of Spain".
But why have City's hierarchy decided to dispense with their Premier League and FA Cup-winning manager and replace him with a man whose only trophy in Europe is the 2004 Intertoto Cup? And who is he?
Emergence at Villarreal; doomed at Madrid
Following City's appointment of chief executive Ferran Soriano and director of football Txiki Begiristain, both with roots in Barcelona, it was always likely they would follow the Spanish route for their next manager.
And City's powerbrokers will be fully aware that Pellegrini's success with Malaga has been far more than a flash in the pan.
After starting his managerial career with a variety of short-lived posts in his native South America, the Chilean first moved to Europe in 2004 when he joined undistinguished Villarreal.
Despite operating on a limited budget with a combination of unproven youngsters, such as Pepe Reina and Santi Cazorla, and players deemed not good enough elsewhere, like Diego Forlan and Juan Roman Riquelme, he created a team that played attractive, high-tempo, short-passing football and achieved unprecedented success.
In Pellegrini's debut campaign, Villarreal finished third, their best ever league performance. The following season they went all the way to the Champions League semi-final, knocking out Rangers and Inter Milan before losing 1-0 on aggregate against Arsenal in the last four.
They continued to flourish, finishing second in La Liga in 2008 and reaching another Champions League quarter-final in 2009, again losing to Arsenal - this time 4-1 on aggregate.
Initially Pellegrini stayed loyal to Villarreal, but he eventually departed in the summer of 2009 after being handed the once-in-a-lifetime opportunity of managing Real Madrid.
In hindsight, the move to the Bernabeu was destined to fail.
From the very beginning, he was undermined as the club's bosses sold two players he wanted to keep - Wesley Sneijder and Arjen Robben - and bought two players he did not really want - Karim Benzema, a £29m signing from Lyon, and Kaka, who cost £59m from AC Milan.
They also signed Cristiano Ronaldo from Manchester United for £80m and Xabi Alonso from Liverpool for £30m.
He fashioned a highly credible season, leading Madrid to a club record 96 points, but with Pep Guardiola's Barcelona at their peak, that was only good enough to secure second place in La Liga.
Even more damagingly for Pellegrini, Los Blancos were knocked out of the Champions League in the last 16 by Lyon, and it was no surprise when he was sacked and replaced by Jose Mourinho at the end of the season.
Malaga's rise and fall
Following his earlier achievements with Villarreal, it was inevitable that Pellegrini would soon return to work.
In July 2010, previously unheralded Andalusian club Malaga were taken over by Sheikh Al Thani, a multi-millionaire from Qatar who arrived with the promise of unleashing unlimited resources to create a new European superpower, in a similar fashion to Manchester City's takeover by the Abu Dhabi United Group in 2008.
The man the Sheikh chose to lead his team was Pellegrini, and the new manager was allowed to invest a fortune on a flurry of high-quality players with the challenge of building a similarly high-quality team.
In the summer of 2011, Malaga outspent every other team in La Liga - even Barcelona and Real Madrid - by lavishing a reported £50m on players such as Cazorla, Isco, Joaquin, Ruud van Nistelrooy, Nacho Monreal, Martin Demichelis and Jeremy Toulalan.
For the time being, Al Thani was putting his money where his mouth was.
Pellegrini delivered, turning his new team into a formidable force. A year ago, at the end of his first full season in charge, Malaga finished fourth in La Liga to qualify for the Champions League for the first time in their history.
Their euphoria quickly disappeared, however, as Al Thani suddenly withdrew his funding, citing frustration at the strangling grip held on La Liga's revenues by the big two of Barcelona and Real Madrid.
Malaga were plunged into crisis. Without Al Thani's backing, their debts reportedly grew close to £84m and key players such as Cazorla, Salomon Rondon and Joris Mathijsen were sold to raise around £25m, but still the remaining squad members were regularly left unpaid.
Amid the uncertainty, Pellegrini stayed loyal and exercised calm authority to keep his squad together, somehow cajoling another strong league campaign as well as a remarkable Champions League voyage which only ended in the quarter-finals, where Malaga came within an absent offside flag of overturning Borussia Dortmund as Felipe Santana's late strike sealed a 3-2 aggregate win for the German side.
But now, with the further disincentive of a Uefa ban from next season's European competitions as a punishment for outstanding debts owed to employees and tax authorities, Malaga's season - and quite possibly their future - is unravelling fast.
Pellegrini's agent has publicly acknowledged that the Chilean boss is considering his future, perturbed by the fact that his job has turned into something very different from the task he signed up for. And few could blame him.
Personality and tactics
Pellegrini's calm, diplomatic and understated personality is best illustrated by his behaviour in the build-up to and aftermath of his sacking by Real Madrid in the summer of 2010.
Despite Madrid's media launching an ugly smear campaign in an attempt to discredit the ousted manager, the Chilean bore his dismissal with calm dignity, resisting the temptation to hit back and earning respect for the professionalism and stoicism of his conduct.
Pellegrini studied engineering at the end of his playing career, earning him the nickname "The Engineer", and there is an analytical, almost scientifically methodical approach to the football played by his teams, who strike a fine balance between defensive discipline and attacking flair.
A microcosm of Malaga's style under Pellegrini could be seen in the two legs of their 2-1 aggregate victory over Porto in the last 16 of this season's Champions League.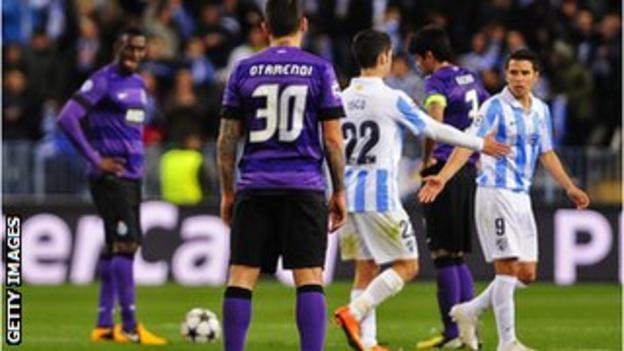 In the first leg, away from home, they were chiefly defensive, operating a rigid 4-5-1 formation and reining in their attacking instincts with the aim of keeping the tie alive for the return leg. They succeeded, only suffering a 1-0 defeat after Porto scored an offside goal.
Back in Spain for the second leg, similar personnel were used but with an entirely different strategy. With key creative players Isco and Joaquin given much more positional freedom in a more flexible 4-2-3-1 set-up, Malaga played at a higher tempo and dictated the pattern of the game, but in a calm, measured manner.
There was nothing frantic or reckless about their approach to scoring the goals they needed, but their patient probing eventually saw star man Isco score a sizzling opener before Roque Santa Cruz secured a 2-0 victory to send them through to the last eight.
As he showed with those two ties against Porto, Pellegrini possesses a great deal of tactical flexibility. Operating from the base of a traditional back four, he regularly employs a wide variety of formations and strategies in midfield and attack, and throughout his career he has always harnessed skilful playmakers such as Riquelme, Cazorla and Isco.
Perhaps most importantly, Pellegrini's players are comfortable in his methods. Unlike City under Mancini, whose teams could look disjointed and confused with new systems, Malaga are always compact, coherent and organised.
Back in the big time
Pellegrini's achievements, his entertaining style of play and his likeable personality combine to ensure he is hugely respected in Spain by players, fans and the media alike.
And after the experience of his one season with Real Madrid, it is hard to deny him the opportunity of another shot at the big time.
Manchester City presents him with that opportunity and history suggests he will succeed because - with the possible exception of his difficult season at the Bernabeu - he has consistently overachieved throughout the last decade.
And there is one final factor to warm the hearts of City fans: David Moyes' best Premier League finish with Everton was fourth in 2005, but the Toffees failed to reach the Champions League group stage after losing out in the preliminary round, with a 4-2 aggregate defeat.
Their conquerors were none other than Manuel Pellegrini's Villarreal. City 1, United 0?