Crystal Palace: Steve Parish wants Eagles to stay grounded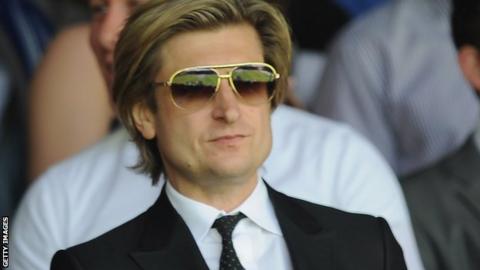 Crystal Palace co-chairman Steve Parish says they must try not to think about the prospect of the Premier League.
The Eagles will face Watford in the Championship play-off final after overcoming rivals Brighton.
He told BBC London 94.9: "It would be a transformation but we have got to get there. We have got to keep our feet on the ground as we are not there yet.
"We have got to get ourselves over the line and that is what we have got to focus on for the next two weeks."
He added: "We are just at Wembley and just one game away from a massive prize. "I want to get there. I don't want to nearly get there.
"Watford will be favourites and that suits us. It promises to be a great game and let's hope we come out winners in the end."
The club promoted to the Premier League this season are due to receive an estimated windfall of £120 million after the league signed a £3.018bn TV rights deal last summer.
"It would change our football club, as I'm sure it would change Watford," Parish said.
"Gino Pozzo [who took over Watford last summer] is a very clever man and I know it would be very difficult to dislodge them if they got into the Premier League.
"I'd like to think we would be wise with it. We have a manager in Ian Holloway who has experience of the Premier League and knows what it takes to stay in there. I think we would give him more resources.
"The nucleus of this side would go forward. These lads are playing to play in the Premier League. They are not playing so that we will bring in a load of mercenaries if we get in the Premier League.
"They will all get their chance but we would obviously have to add to it."
Parish, along with Stephen Browett, Martin Long and Jeremy Hosking, took over the Selhurst Park outfit in summer 2010 after a troubled time for the club, which had seen them enter administration in January that year.
Parish admits that reaching Wembley is a proud moment for him, having been a lifelong Palace fan.
"Myself, Steve, Martin and Jeremy have been fans of this club since we were kids," he continued.
"To be involved in it and to feel you've got a little part of making it happen gives me immense pride. I'm pleased for the fans, who've had to suffer so much.
"I would be excited even if I wasn't the chairman. I'd have my ticket and I'd be going.
"With everything we have been through over the last four or five years it has been hard work to get here.
"Sometimes you feel like everything is stacked against you with a lot of clubs spending a lot of money.
"We have managed to do it but it is only Wembley. It means a great deal but we have got to be as cool and clinical as we were at Brighton.
"We have got one more game and a very good side we have got to try and beat."