Manchester City demand instant success above everything - Marsh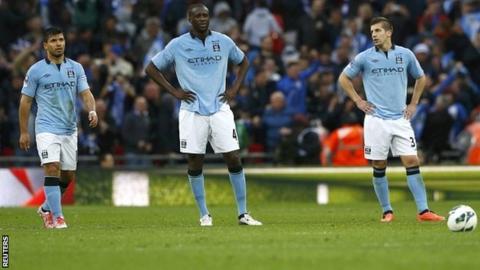 Roberto Mancini's suggests his successor will have little time to focus on anything other than short-term glory, club legend Rodney Marsh has warned.
One of the reasons City gave for firing Mancini was that, despite leading them to their first top-flight title for 44 years, he did not pay enough attention to the development of young players.
"Youth programmes are pretty much dead because when a new manager comes in, if he knows in two years he hasn't been successful, he's gone," said Marsh, 68.
Former striker Marsh, who scored 36 goals in 118 games during a three-year spell at Maine Road in the 1970s, doubts on City's assertion that they want their new boss to adopt a more "holistic approach to all aspects of football".
"When you change manager and he's only got a small amount of time to succeed, what is their attitude?" asked the 68-year-old.
"It certainly isn't to bring players through a youth programme."
Former Inter Milan boss Mancini was appointed in December 2009 and went on to win the FA Cup in 2011, before landing the Premier League 12 months later.
This season, however, City were comfortably beaten to the title by Manchester United, failed to make it out of the group stage of the Champions League, and lost the FA Cup final to Wigan.
Marsh believes Mancini's sacking is symptomatic of an increasingly cut-throat culture in the Premier League.
He agrees with the League Managers' Association's chief executive, Richard Bevan, who said: "The pressure on management has never been greater."
As a result, Marsh thinks City have regressed to the point where they are now in the same position as when Mancini took over.
Malaga manager Manuel Pellegrini has been strongly tipped to replace the Italian, but Marsh thinks whoever comes in will have a tough time.
"The new guy that comes in will want to do it his way," he said. "He will want the back office changed, the assistant coaches changed, he'll want new players and there will be players at Manchester City who he doesn't want.
"It will be like going back to square one and starting all over again - exactly as Mancini did when he came in."
Marsh thinks City could learn from arch-rivals Manchester United in the way they go about their business.
"Whoever is in charge has made the wrong decisions for Mancini," added Marsh. "They didn't react and didn't bring in that marquee player like Manchester United did with Robin van Persie last summer.
"On all the big decisions, Manchester United do it right and Manchester City need to develop in the same way that United have.
"Manchester City now is a world brand. They need to be where United are today but it takes a while to get there."