Man City: Brian Kidd welcomes win after Roberto Mancini exit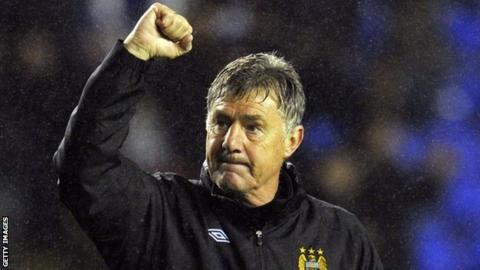 Manchester City caretaker boss Brian Kidd said it was a relief to beat Reading after the "shock" of Roberto Mancini's departure on Monday.
confirmed them as Premier League runners-up.
Kidd told the club's website: "What has gone on in the last 24 hours, it was a shock to the staff.
"If you had said to me before the game that you are going to win and clinch second place, I would have accepted that."
Mancini was sacked just two days after City's surprise 1-0 defeat to Wigan in the FA Cup final at Wembley.
The 48-year-old Italian had been in charge for three-and-a-half years, guiding the club to FA Cup success in 2011 and their first Premier League title last season.
Malaga boss Manuel Pellegrini is among the frontrunners to take over.
Kidd said the win over Reading took the pressure off the players going into their final game of the season, at home to Norwich on Sunday.
"All credit to the players," said the former Manchester United assistant boss. "They are the ones who have had to put up with stuff off the pitch as well and I am pleased for them.
"It would have been a travesty if they had not finished second."