Muratti 2013: Sam Cochrane confident Guernsey can win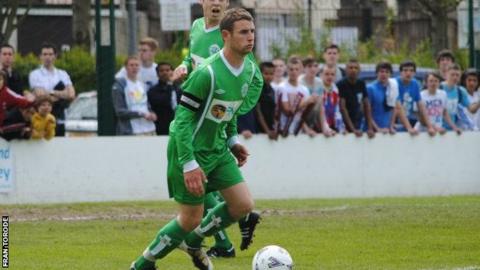 Guernsey captain Sam Cochrane says he has "huge confidence" that his team-mates can retain the Muratti.
The 27-year-old has been
But he says he feels his side, which is made up mainly by Guernsey FC players, can hold on to the vase when the islands clash on Saturday.
"I have huge confidence in them and they should have nothing to fear whatsoever," he told BBC Guernsey.
"We have improved so much as a group of footballers over the last few seasons with the experience we've gained," he added.
Cochrane has as well as
Next season the Green Lions will play in the Isthmian League after coming second in the Combined Counties Premier Division.
But despite all the success in England, Cochrane says he is very disappointed to be missing the annual clash with Jersey, which was
"It hurts massively not to be a part of it, but I'll be with the squad and in ands around the dressing room to support the boys and hopefully we'll do enough to retain the Muratti Vase.
"It means a huge amount to me, representing Guernsey - be it through Guernsey FC or the Muratti. It's a huge fixture with its historic value and I was strong on my views when it clashed with other fixtures.
"But thankfully it was moved and it's going to get all the attention from the media and football fans that it deserves."