Chelsea & Arsenal could play off for third in the Premier League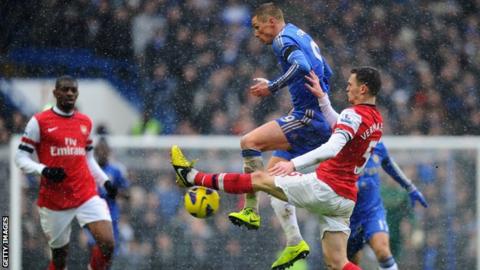 The Premier League has confirmed there will be a third-place play-off match between Chelsea and Arsenal if the pair end the season with identical records.
If Chelsea draw 0-0 on the final day of the season and Arsenal win 2-1, they will be level on points, goal difference and goals scored.
The play-off winner would automatically reach the Champions League group stage.
"It would be played at a neutral ground on a date and venue to be determined," added a Premier League spokesman.
Chelsea, who are currently third and two points ahead of Arsenal, host Everton at Stamford Bridge on Sunday, while the Gunners travel to Newcastle.
The teams who finish in the top three of the Premier League automatically qualify for next season's Champions League group stage. The fourth-placed club enters the competition's third qualifying round.
Any draw for the Blues, coupled with Arsenal scoring two more goals in a one-goal winning margin, would also leave the London rivals tied.
Premier League rules state: "If at the end of the season... the question of qualification for other competitions cannot be determined because two or more clubs are equal on points, goal difference and goals scored, the clubs concerned shall play off one or more deciding league matches on neutral grounds, the format, timing and venue of which shall be determined by the board."
But finding a date for the potential play-off could pose a problem with Chelsea set to travel to the United States next week.
The Blues are playing two end-of-season matches against Manchester City in St Louis and New York, while England also have friendlies on 29 May and 2 June against Republic of Ireland and Brazil.
The Premier League added they would "have to find a solution".
An end-of season Premier League play-off has never been played, although top-flight bosses did begin planning for the possibility of a one-off decider in 1995-96 when Manchester United and Newcastle United were competing for the title.
The match would have taken place at Wembley Stadium on either 16 or 21 May.
However, Sir Alex Ferguson's team beat Middlesbrough on the final day of the season, while Newcastle drew at Tottenham, to win the title by four points.