The real Sir Alex Ferguson: memories of his ghost-writer

By David Meek
Journalist and writer
Last updated on .From the section Football382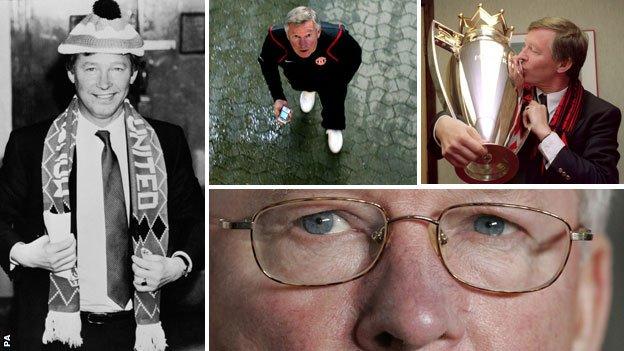 David Meek covered Manchester United for the Manchester Evening News from 1958 to 1995. He has ghosted the programme notes for every United manager from Sir Matt Busby through to Sir Alex Ferguson. Here he gives his personal recollections of Ferguson, who he used to meet at United's Carrington training ground each week for 26 years.
I nailed my colours to the mast three years into Sir Alex Ferguson's trophy-laden 26-year reign as manager of Manchester United.
But this was before all the silverware started to arrive. It was in fact a turbulent time, as the Reds sank into the bottom half of the table after a run of 11 league games without a win, despite spending a lot of money on players like Gary Pallister, Danny Wallace, Paul Ince, Neil Webb and Mike Phelan.
They just weren't gelling - perhaps too many new faces introduced too quickly - and the mood was captured by one unhappy fan who held up a bed sheet at Old Trafford on which he had painted: "Three years of excuses and we're still crap, ta-ra Fergie".
The knives were certainly out as United approached the third round of the FA Cup with a tricky tie at Nottingham Forest and injuries to key players.
Television commentator Jimmy Hill even said United looked like a beaten team in the warm-up.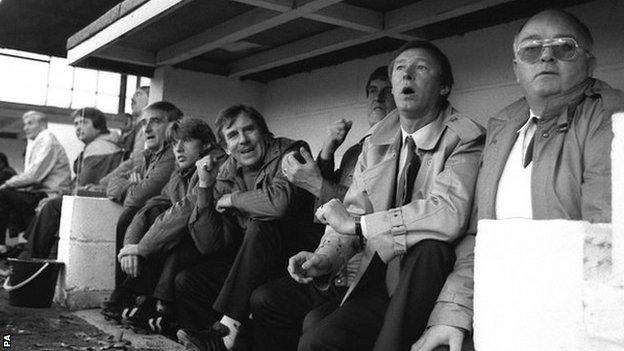 My editor at the Manchester Evening News ran a phone-in asking readers to vote on whether Ferguson should be sacked. The result of the poll showed a majority in favour of him going and I was asked to write a story accordingly.
In fact, what I did was argue that if you deducted the votes of Manchester City fans wanting to cause mischief and you took into account the United supporters who couldn't be bothered to ring in, you were left with an overwhelming vote of confidence in Alex Ferguson.
It was all very tongue in cheek on my part and my editor wasn't best pleased, but it went into the paper before he could do anything about it. That was the moment I became a 'Fergie man', close enough to help write his programme notes for 26 years.
It wasn't just blind loyalty, though, toadying up to the manager - more a conviction that given time he would come good. For I knew all the far-sighted work he had done behind the scenes, putting an end to the drinking culture by transferring Norman Whiteside and Paul McGrath, and totally reorganising the youth set-up which was about to deliver the enormously promising FA Youth Cup-winning team containing players like Gary Neville, David Beckham, Ryan Giggs, Paul Scholes and Nicky Butt.
My support for the manager at a critical time in his career established a trust that would prove enormously helpful in 37 years covering Manchester United for my paper and, after my retirement from the Evening News, as a freelancer writing about the club, helping to set up the United museum at Old Trafford, and scripting the panels for the Munich tunnel.
Not that it protected me completely from the occasional 'hairdryer' treatment when he considered the Evening News had let him down.
For instance, I felt the full force of his anger when we printed a story about his players visiting the SAS at Hereford in a bid to toughen up their attempts to win the league title. He slaughtered me and my editor because he said we were exposing his people to retaliation from the IRA. He said he was ending his co-operation with us, although he did tell me that it was nothing personal.
That helped, because I realised he had exploded with rage because he wanted me to go back and tell the editor that on no account must we print any more stories against his wishes.
I learned then that this remarkable manager aimed to have control of not just his football club but everything else that had a bearing on its welfare. To an astonishing extent he succeeded because in addition to his anger he has a personality that can be extremely persuasive.
For a start, Ferguson has always had an air of authority about him, as Brian McClair, one of his first signings for United and now manager of the club's academy, explained to me. "I remember meeting Alex Ferguson for the first time when I was playing for Celtic and in Monaco to receive the Golden Boot award as Europe's top scorer," he said.
"He was there representing Aberdeen and after the dinner and presentations he asked me what I was going to do. I told him that I wanted to take the opportunity of being in Monte Carlo by going to the famous casino, to which he said, 'Oh no you're not, son, you are going to your bed'.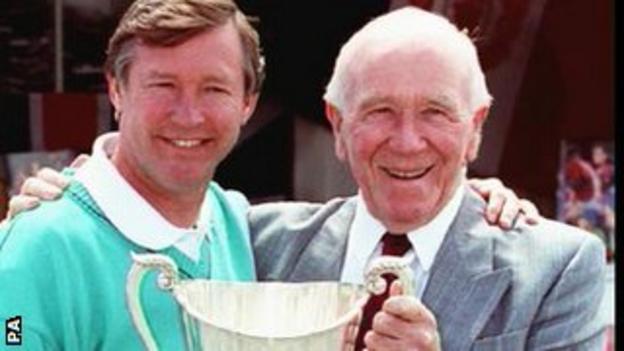 "The funny thing was that even though I didn't play for his club and he wasn't my manager, that's exactly what I did. There was just something about the man that I didn't want to argue with. He has a natural authority.
"Somehow you just accept that what he says is right. I was young, but even so, that first experience of meeting him has never left me."
But for every tale of Fergie the hard man, like the time he dropped Jim Leighton for an FA Cup final replay and broke his heart as well as his career, there are just as many instances of Alex the softie, like his unsung charity work and supporting the boys' club he played football for when he was growing up in Glasgow, along with his readiness to pay his respects to old friends, be it a leaving party or a funeral.
I doubt whether Alice, a long-time United supporter celebrating her 100th birthday in a nursing home in Leicester, will ever forget the unheralded arrival of Sir Alex to wish her many happy returns. At one point the matron rushed in to announce that the Queen's traditional telegram had arrived.
"Oh never mind the Queen," said Alice. "Alex is here!"
Equally appreciative, I'm sure, is the long-serving member of staff who doesn't drive and clearly had a problem getting to United's isolated training ground at Carrington when her husband, who used to drive her to work every day, died. Now she comes to and from work in a taxi laid on by Sir Alex.
I also experienced his concerned care. A few years ago I had bowel cancer and in addition to receiving the traditional flowers, I answered the phone at home one afternoon as I recuperated from the operation to hear a voice coming down the line: "The Scottish beast is on his way."
The manager had not forgotten his programme ghost and he came to deliver an encouraging message. "You can handle it," he said. Coming from him I found his words quite inspirational.
We all know how much Sir Alex has achieved in the game - more than any other British manager - but he has also touched the lives of so many away from the glamour of football, and these moments are also very precious.