Roberto Martinez: Wigan boss would join Everton - De Zeeuw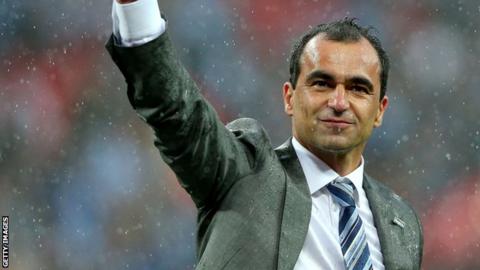 Former Wigan Athletic defender Arjan de Zeeuw expects former team-mate Roberto Martinez to leave the Latics if there is Premier League interest in him.
Wigan's drop into the Championship was confirmed by Tuesday's 4-1 defeat at Arsenal.
Martinez, 39, linked with soon-to-be-managerless Everton, declined to discuss his future.
"If there is interest from another Premier League club, I think Roberto will leave Wigan," said De Zeeuw, 43.
Former Swansea manager Martinez was a target for Aston Villa in June 2011 but opted to stay on as Wigan boss, and was also strongly linked with the Liverpool job last summer.
He guided the club to FA Cup success on Saturday, Wigan's first major trophy, but De Zeeuw believes relegation could spell the end of Martinez's time at the DW Stadium.
"It could mean Roberto Martinez joins a different club," said the retired Dutch defender, who played with Martinez at Wigan in the Second Division between 1999 and 2001.
"That will mean not only do they have to fight to get back into the Premier League but also that they have to get used to a new manager which brings a lot of upset to the club.
"[If I were Everton's chairman] I would definitely be asking the question and give him a phone call and see what his thoughts are.
"I know the Wigan chairman does not want to let him go too easily because they have a very good working relationship. But he knows he cannot stand in his way if a big Premier League club comes in for him."
In his first managerial job, ex-Real Zaragoza midfielder Martinez guided Swansea into the Championship in 2008.
He was appointed Wigan boss in 2009 and, until Tuesday night, had helped keep the north-west club in the Premier League, while managing on a low budget compared with his rivals.
"It's quite amazing that you're a team that gets relegated from the Premier League and everybody still says you have got a good way of playing football. The manager is well-liked among his peers," said De Zeeuw, who enjoyed two spells at Wigan from 1999-2002 and 2005-2007.
"The style they have played in the last few seasons, managing to stay up in the previous couple of seasons, and this year they have obviously won the cup, they have achieved something.
"I'm little bit biased because I know Roberto very well.
"I think Roberto has done well. He has got them playing a certain style and brought in younger players."