Dean Keates unimpressed by Wrexham's new contract offer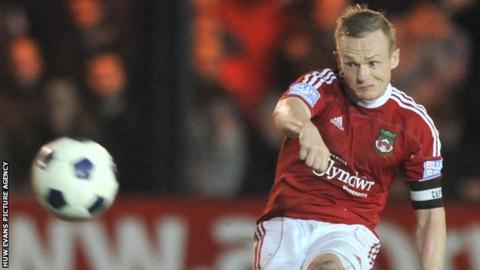 Wrexham captain Dean Keates believes he deserves better than the one-year contract he has been offered to stay at the Racecourse.
Keates, 34, has revealed the offer represents a pay cut in terms of the "overall package" and is considering a two-year deal offered by another club.
"I feel I've shown enough commitment in the time I've been here to feel that I'd like a two-year deal," he said.
"I've more than put my body on the line for the last few years."
Wrexham have already lost last season's top-scorer Danny Wright to Conference Premier rivals Forest Green as manager Andy Morrell begins to put his squad together following their play-off final defeat to Newport County.
Wright, 28, said he was not prepared to accept a "lesser contract", although club chief executive Don Bircham has insisted the striker was not asked to take a pay cut.
Failure to reach the Football League has had budget implications for Morrell, which have already resulted in no deal being offered to experienced defender Chris Westwood.
The 36-year-old was voted Wrexham's Player of the Year this season and man of the match in the FA Trophy final win over Grimsby Town.
"That was a shock," said Keates of Westwood's departure. "He's very good friend of mine and a very well respected player in the changing room.
"He will be sorely missed within those four walls. It's very rare to see someone who's won player of the season and then get released."
Keates, who moved to the Racecourse in 2010, accepts Wrexham must "cut their cloth accordingly" as they prepare for another season in the Conference and insists there is "no problem" between himself and the club.
But the midfielder, who needed a total of 31 pain-killing injections in his foot to get through the three games in the play-offs, hopes Wrexham will reconsider their offer of a one-year deal.
He rejected an offer of higher wages to join a Football League club in London last season, but acknowledges that the security of a two-year deal at another club could be difficult to turn down this time.
"If we can sit down and get things sorted I would be more than happy to be staying at Wrexham," he said.
"Everything on the playing side is more than good enough but I feel it's getting to the point where other things need to be considered.
"I've got the two-year contract on the table and a few other teams showing possible interest.
"I've got 28 days to get back to the club regarding their offer and it's a time I need to consider my options and what's best for my family."