Government funding for Windsor Park remains uncertain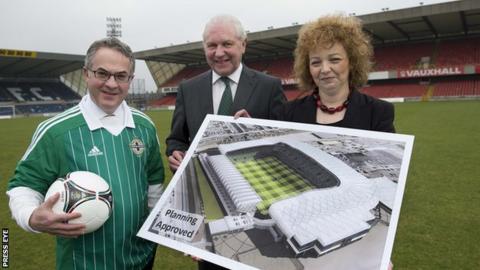 There is no binding agreement in place for the proposed £25m government funding for the redevelopment of Windsor Park, a court has been told.
Irish League club Crusaders are objecting to the funding, claiming it amounts to state aid for their rivals Linfield who own the stadium.
On Wednesday, the High Court in Belfast rejected an attempt to have a judicial review adjourned until September.
The hearing is to go ahead on 21 May.
The Department of Culture, Arts and Leisure and the Irish Football Association are hoping work on two new stands at Windsor can start in September with the scheme scheduled to be completed in 2015 - but the timetable could be scuppered by the legal challenge.
Crusaders are arguing the upgrade proposals breach European Union competition laws.
They claim their Irish Premiership rivals would benefit from "unfair" revenue streams, as well as superior facilities at Windsor Park.
A lawyer for the Department of Culture, Arts and Leisure said a final decision on whether to commit to the Windsor scheme centred on the question of alleged state aid.
The issue was described as a potential "game changer" for the project, and a representative of the Department said the legal challenge was premature.
However, Mr Justice Treacy refused a request to have the judicial review proceedings put back.
The Windsor Park redevelopment is part of a plan that also includes the Ulster rugby ground at Ravenhill and the GAA's Casement Park.
A total of £110m has been set aside for the three building projects through the department.
The first stage in its court challenge is due to be heard next week.
Counsel for the Department, Paul McLaughlin, had asked for an adjournment so that the European Commission could form a preliminary view on the issue of state aid.
Its opinion will have a major influence on how the case develops, he predicted.
Mr McLaughlin pointed out that it could lead to a notification process taking up to two years, with potential implications for the scheme.
He told the court there was currently no commitment to fund the stadium upgrade.
"We would say this entire judicial review is premature, because it's premised on the idea that binding agreements are in place, that the government has committed finance to the Windsor Park redevelopment. That is not the case," he said.
"There is planning permission in place, but the final decision on whether to commit to funding has not taken place."
His assessment was disputed by Peter Girvan, for Crusaders, who pointed to a description of the plans on the Irish Football Association's website.
Mr Girvan also pointed out that construction work was already under way at Ravenhill as part of the overall £110m package.
"It seems to us there is absolutely no reason why the application should be delayed," he added.
Following his submissions, Mr Justice Treacy confirmed the hearing would proceed as planned on Tuesday.