Jamie Carragher: Liverpool defender rues title failure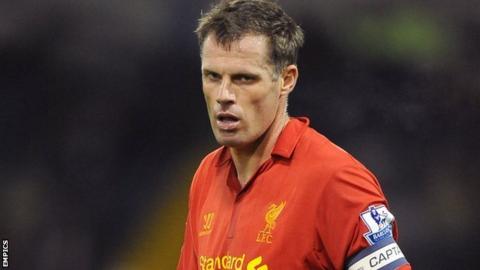 Liverpool defender Jamie Carragher says his biggest regret is that he will retire having never won a Premier League title.
The 35-year-old is preparing to play his final match for Liverpool against Queens Park Rangers on Sunday.
He has won a Champions League, Uefa Cup, two FA Cups and three League Cups during his 16 years and 736 games.
"I've never won the league, that's a disappointment," the ex-England centre-back said. "I wish I'd won the title."
When asked why Liverpool had failed to pip Manchester United, Arsenal and Chelsea on a number of occasions, he added: "It's very simple. We weren't good enough. There's no fancy reason or excuse. The teams were better than us. A couple of times we were close, but Arsenal and Man United were better than us.
"If you look at everyone there's always something somebody hasn't done. There's always more that could be achieved no matter what you've done."
Carragher believes Alex Ferguson's retirement as Manchester United boss might give other clubs an opportunity.
"Everyone is looking at it to see how it will go; maybe it will give other people a chance to get in there if there is bit of uncertainty," he said.
Carragher is second only to Ian Callaghan in the club's all-time appearance table but he went on to say he had no regrets about his decision to retire, despite having re-established himself in the Liverpool side on the back of a string of impressive performances.
"People keep asking me how I am feeling but I suppose the answer will come after the game." he said.
"I am just concentrating on that, hopefully getting a win and then I can look back at it and give a better answer," he said. "I've not reconsidered it. I've had a few chats with the manager since making my decision, more about the season than anything else.
"But the more I've been in the team, the more I've wanted to stick with my decision and go out playing. I have been fortunate that since the announcement I've got myself back in the team. It's better than staying another year and maybe being in the stand or on the bench."
Carragher, who is going to be a television pundit, went on to reveal when he had decided this season would be his last: "I made my mind up about 12 months ago, the end of the season. I was in and out of the side with Kenny [Dalglish]. I was thinking about it in the summer but I had a year to go and a new manager coming in.
"I knew then it was always going to be my last season."