Andy Mangan 'too expensive' for Wrexham, says Andy Morrell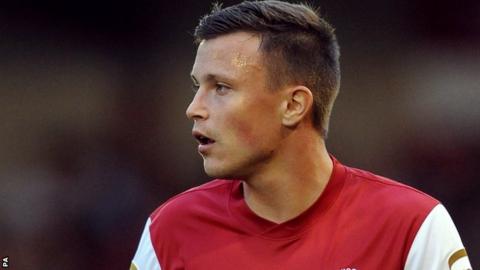 Wrexham player-manager Andy Morrell says his limited budget means he has little hope of tempting striker Andy Mangan back to the club.
Mangan, 26, has been released by League Two side Fleetwood Town, who he joined from Wrexham in 2011.
"I'd love to bring him back to the club, it would be fantastic," said Morrell, who has lost top scorer Danny Wright to Forest Green Rovers.
"But he's on far too much money at the moment for us to compete."
Aside from the financial constraints at Wrexham, Morrell believes Mangan's ambitions would dictate he would rather stay in League Two than drop back down to the Conference.
"He's proved he can score goals at Conference level and I think he wants to prove to himself he can score goals in League Two or League One," added Morrell.
Mangan scored 20 league goals in the 2011-12 season as he helped Fleetwood to the Conference title, beating Wrexham to the prize by five points, but his limited appearances this season brought a return of just four goals.
He was snapped up by the Lancashire club after scoring 16 goals for Wrexham in the 2010-11 season.
A striker of Mangan's ability is exactly the type of player Morrell has identified as his key signing for the summer.
Squandered goal-scoring chances cost Wrexham promotion, according to Morrell, with the 2-0 play-off final defeat against Newport County a microcosm of their season where dominance was not converted into goals.
But with no money available for transfer fees and a cap on wages, Morrell admits he will struggle to secure his top targets.
"You're always looking for that striker that's going to score you 30 goals to get you out of the league," he said.
"Clubs like Crawley, Fleetwood and Mansfield - teams that have won the league - have had all had somebody that's scored over 20-25 goals.
"They are the ones you're looking at. But those sorts of players are on really good money so it's just weighing it all up and trying to pick out that one player that doesn't cost a horrendous amount of money that will help get us out of the league.
"The board will not put the club in jeopardy one bit so we'll have to piece it together."