Rafael Benitez will be in demand after Chelsea's Europa League win

By Phil McNulty
Chief football writer
Last updated on .From the section Football369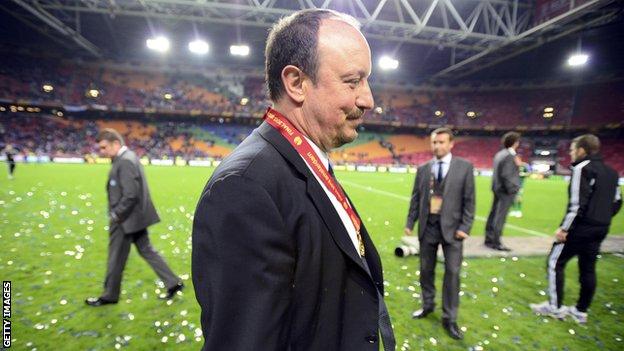 At the Amsterdam Arena
Rafael Benitez walked up the steps of the Amsterdam Arena into the warm embrace of Chelsea's high command. Chairman Bruce Buck beamed and mouthed his thanks to the interim manager.
Once more the chaos that is a way of life at Chelsea had ended with success. The game's greatest advert for gross instability had added the Europa League trophy to last season's Champions League crown.
And the symbol of this unlikely mixture of trouble and trophies was Benitez. The man Chelsea fans wish was not there had, in leading his side to a dramatic late victory over Benfica, added his third piece of major European silverware to an already impressive CV.
As former Chelsea midfielder Nigel Spackman rightly suggested after Branislav Ivanovic's header deep into stoppage time confirmed a 2-1 win, if the boss had been anyone other than Benitez he would have been rewarded with a new contract.
Instead, when Benitez leaves after Sunday's final Premier League game against Everton at Stamford Bridge, Chelsea's supporters will not spare him a backward glance.
He will get a new contract but it will not be at Stamford Bridge.
The man who manoeuvred a squad through a gruelling closing phase of the season - the Europa League final was their 68th game this term - is overdue some respect from Chelsea's fans before he leaves. He should get it, but he will not.
As the Blues once again illustrated their uncanny ability to dig out results in extremis - they were outplayed by Benfica for large portions of this final - Benitez watched impassively on the sidelines. A rare show of emotion, a brief clenched-fist gesture when Ivanovic's header looped over Artur, betrayed how much this meant to him.
This outcome was not the result of any tactical genius or obvious shrewd Benitez master plan but he deserves credit for not making hasty changes when Chelsea were in trouble, which was often in the first half, and for bringing his players through a marathon season to a point where they were still mentally and physically capable of winning a European trophy in the dying moments of the final.
Chelsea had once more turned football logic on its head. While due respect is paid to Manchester United and Arsenal for their continuity, owner Roman Abramovich flies in the face of this approach and still gets rewarded with trophies.
With apologies to Arsenal, as they are the best example, the Gunners would currently kill for any honours. Benitez has provided one in seven months at Chelsea and yet he is on his way, accompanied by nothing other than a vaguely tolerant silence from supporters.
Guus Hiddink was in temporary charge when Chelsea won the FA Cup in 2009 and were within seconds of reaching that year's Champions League final. Roberto Di Matteo was holding the fort when he won the FA Cup and Champions League last season. And now Benitez has won the Europa League as 'The Interim One'.
What would be carnage at one club seems to be a recipe for success at Chelsea. Benitez may have ended his tenure in triumph but there is not the slightest chance he will be retained.
Chelsea and Benitez have carried the appearance of a marriage made in hell, especially when he turned on the fans who abused him after the FA Cup win at Middlesbrough, but they have made this 'odd couple' relationship work after a fashion.
Benitez has brought the Blues a trophy and Chelsea have given Benitez the platform to rehabilitate himself in the game, reminding potential employers of what he can achieve - and quite importantly that he can still enjoy a bit of luck when he needs it most.
Chelsea were run ragged for long spells but Benfica's game fell into two categories. On the one hand they were over-elaborate and on the other their finishing was truly wretched.
Fernando Torres, whose supposedly torrid failure since leaving Liverpool is not exactly reflected by winning the Champions League and Europa League with Chelsea as well as Euro 2012 with Spain, showed Benfica how it was done with a magnificent goal on the hour.
The striker showed great body strength to shrug off Luisao and awareness to round Artur before a composed angled finish. It was a strike reminiscent of his Liverpool pomp.
Oscar Cardozo's penalty drew Benfica level before the admirable Ivanovic, who missed the Champions League final through suspension, started scenes of great celebration.
Of course there was then the slightly awkward (although not to the central character) sight of an injured John Terry slipping into the same telephone box he used in Munich to remove his suit in an instant and emerge in his Chelsea kit to lift the trophy with Frank Lampard.
There was no truth in the suggestion Terry had invested in a replica Benfica outfit just in case things turned bad and he was in danger of not hoisting the great prize.
In so many ways, though, the man of the moment was Benitez. He looked a little like someone on the outside looking in as Chelsea's players cavorted on the pitch, but he deserves his place among the joyous celebrations.
He has been helped by being able to focus solely on football. On so many levels it was pointless taking on Abramovich as he had done with those in power at Liverpool, and he was not tested in the transfer market.
He was left with one main task - to qualify for next season's Champions League. A trophy would be a very welcome bonus. Having put a tick against both of those, he can now be satisfied.
The song that has taunted him many times since he succeeded popular Champions League winner Di Matteo in November has been: "Rafa Benitez - You're Not Welcome Here." Perhaps not, but he will be welcome at plenty of other places after this.
Benitez can leave with his head held high and, like the Europa League, the sound of praise from Chelsea's supporters would be an added, and much deserved, bonus.