Rangers: Proposal to remove chairman Malcolm Murray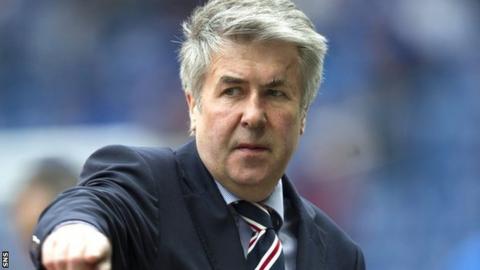 Rangers' board has been asked to call an extraordinary meeting with the aim of pushing through significant change.
The resolutions proposed include the removal from the board of the club's chairman, Malcolm Murray, and the non-executive director, Philip Cartmell.
It is proposed that the pair be replaced by current shareholders James Easdale and Chris Morgan.
The proposal has been made in the name of Blue Pitch Holdings, who own just over 6% of the club's shares.
The former Rangers director Dave King has also been keeping a close eye on the situation and it is not impossible he could also be offered a controlling share in the club.
Murray's position at the Third Division champions has been under scrutiny for some weeks and he although he has remained in the post.
Easdale and his brother, Sandy, have made it clear recently that they are .
They told the BBC last week they had a "delicate agreement" to buy up shares as and when they became available.
It had earlier emerged that the club's former chief executive, Charles Green, had agreed to sell his shareholding to the Easdales.
Morgan was one of Green's original investors and, in the list of his particulars, which would be registered should he become a club director, are companies such as RCJ Developers, Rhein Parkland, Neos Interactive, Albert Albela Corporation and Asia Investment Corporation.
A Rangers spokesman said: "The club can confirm receipt of a requisition for a general meeting.
"The board is seeking clarity on the validity of this requisition and in the meantime the directors wish to assure all fans that they are working tirelessly to keep the club on the right course.
"It is vital Rangers continues to progress and no matter how many distractions or obstacles are placed in our way, the directors are determined to meet all challenges.
"The most important people in all of this are the supporters, the team, the staff and the management.
"Rangers' fans deserve to know that the board will not be prevented from doing everything necessary to protect this cub for them."