Sir Alex Ferguson: David Moyes' work ethic is key to success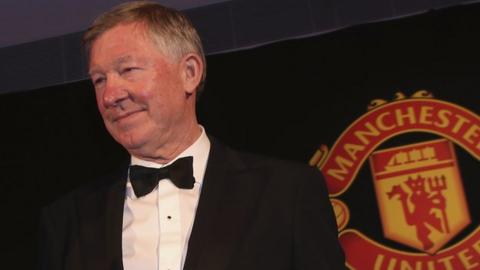 Manchester United manager Sir Alex Ferguson has praised the hard work and integrity of his successor David Moyes.
The Everton boss has signed a six-year deal to take over at Old Trafford from 1 July when Ferguson retires.
At the club's awards night, Ferguson, 71, said: "What I know of David is he's hard working and has integrity.
"He's also got a work ethic about him and he's a serious football man. I think these are the qualities he's going to need."
Ferguson, who will stay on at Old Trafford as a director and ambassador, paid tribute to his fellow Scot's achievements with Everton.
"He's got a perseverance about him - look at what he's done at Everton," said Ferguson.
"Eleven years without any tremendous financial backing, but he's persevered with it and created some decent teams in the last few years. They are the qualities he's going to need at our club.
"The one thing you have to do is definitely sacrifice and persevere - it's not always a golden path of riches."
He also revealed that it had been difficult to keep his decision to retire a secret.
"I was sitting with my family and you forget you're actually going to retire and talk about next year. You're afraid you're going to blurt out something else but I didn't tell my sons until the end of March," he said.
"I only told my brother [Martin] the night before it was announced and he wasn't too pleased."
Ferguson, who will take charge of his final game against West Brom on Sunday, admitted that it had been an emotional week after 26 years with the club.
"When I announced it to the staff, I was a bit blubby, you know," he said.
"I think, funnily enough, the last few days have been hard and Monday night, after the parade, I slept for 10 hours. I was absolutely gone - knackered."