Sepp Blatter questions viability of summer Qatar World Cup
Last updated on .From the section Football
Fifa president Sepp Blatter believes it is "not rational" to play the 2022 World Cup in the summer heat of Qatar, where temperatures can hit 50C.
Air-conditioned stadia have been planned, but the Swiss has expressed concerns about the implications for people outside the venues.
"The World Cup is more than just stadiums, it's an array of social and cultural activities,'' he said.
"What do we do? It's not rational and reasonable to play in June-July."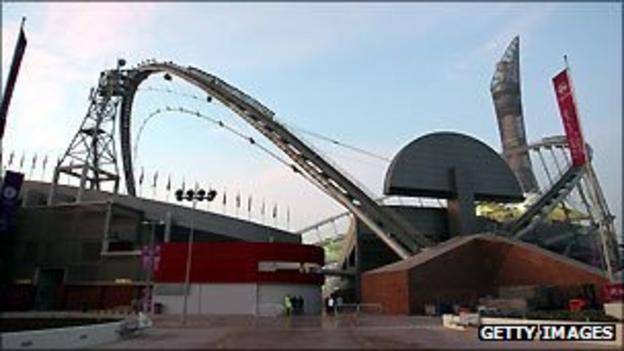 Blatter has given varying views on the issue. In January 2011 he said he expected a winter event, but back-tracked on that a month later.
In March, Fifa general secretary Jerome Valcke argued that the Qatar World Cup could be moved if medical reports highlighted related health risks.
"Whether it's the right choice, that's up to the executive committee," Blatter told French newspaper L'Equipe. "The problem is knowing whether it can be played in June-July in Qatar."
The idea to move the competition away from its traditional time has previously been backed by Uefa leader Michel Platini and world footballers' union FIFPro.
It has been proposed that any decision to move to a northern hemisphere winter date should be made by 2015 in order to give national leagues and competitions around the world sufficient time to reorganise their calendars.
Qatar defeated bids from South Korea, Japan, Australia and the United States to win a ballot of Fifa's 22 executive members for the right to host the 2022 World Cup.
At the same ceremony in December 2010, Russia beat England and joints bids from Spain-Portugal and Netherlands-Belgium to host the 2018 event.
England's bid to host the tournament only attracted two votes.
Speaking about the 2022 vote, Blatter said voters were influenced by the pressure to take the World Cup to the Middle East for the first time.
He said: "There were interventions at different levels so that it would go to an Arab country. Geopolitics did its work."
He continued: "Before the awarding of a World Cup or Olympic Games, there is a meeting with the politicians. We had it here in Zurich.
"They influence the voters. England didn't get the 2018 World Cup and, ever since, there has been a cold war with Fifa.''