Southampton: Mauricio Pochettino may leave if chairman departs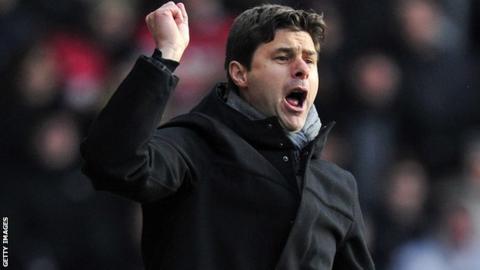 Southampton manager Mauricio Pochettino says it "would not make sense" for him to stay at the club if chairman Nicola Cortese leaves the Saints.
Cortese appointed the Argentine in January after
Earlier this week, it emerged the chairman was considering his position over differences with the trust that owns the Premier League club.
"He is vital to my future," Pochettino, 41, said. "Who was Pochettino before Nicola brought me to this club?"
The former Espanyol manager guided Southampton to Premier League survival after successive promotions from League One to the top flight under Adkins.
It is understood Cortese is and clarification about the way the owners, Liebherr Trust, want to run the club.
Cortese is currently allowed final approval on all major decisions and he is concerned this may change.
Pochettino told BBC Radio Solent: "The reality is we share a common passion and we share a long-term plan for this club. We share our passion for football and it would not make much sense for me to continue at this club if he is not here.
"I do not understand Southampton without Nicola in the future and I think the reality is Nicola has created everything we see at Southampton now.
"I'm very happy at the club. I'm very happy with the supporters and I'm very happy in the city."
Under Pochettino, Southampton have defeated the likes of Manchester City, Liverpool and Chelsea, collecting 18 points from a possible 45.
During that time, key first-team players such as midfielders Morgan Schneiderlin and Adam Lallana have signed new long-term contracts.
Schneiderlin, who was voted the Players' Player and Fans' Player of the Year on Tuesday, admitted the doubt surrounding the positions of Cortese and Pochettino was worrying.
Asked how the squad would react if both men left this summer, Schneiderlin said: "It would put everything in question again for every single player.
"The chairman and Mauricio Pochettino are a big part of this club. They are selling the project to us and that's why I signed a new contract, as well as other players doing the same.
"He is very supportive of the chairman so I am not surprised (by his comments).
"All the players are here because we trust Southampton is going to move forward so it would be a very disappointing if that (their departure) was to happen."