Aldershot Town: Administrators make 13 players redundant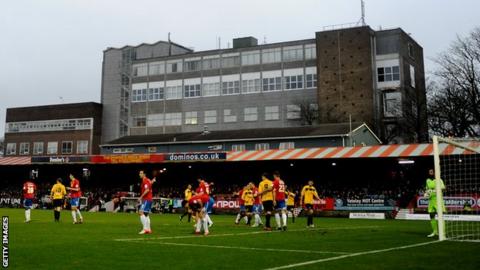 The administrators of Aldershot Town, Quantuma Restructuring, have made 13 players redundant.
Quantuma Restructuring, who contacted the players on Wednesday, told BBC Surrey that "most of the players were out of contract in June anyway".
Shots manager Andy Scott, who was notified of the requirement for redundancies, remains employed along with his assistant Terry Bullivant.
Just six players remain under contract at the EBB Stadium.
Joint-administrators Carl Jackson and Paul Goddard refused to name the players who have been released, but defenders Olly Lancashire and Troy Brown and striker Danny Hylton have posted on social media website Twitter that they have left the Hampshire club.
Lancashire tweeted on Wednesday: "Signed a 2 year contract with my home town club last summer, get a phone call today to say that my contract has been terminated.
"Not sure how they think they can do that but I will be fighting to keep myself an Aldershot player."
Brown tweeted that he was "officially unemployed", while Hylton wrote "out of contract free to go".
Aldershot entered administration on 2 May and revealed debts of £1m, with £300k owed to football creditors.
The club, who have been relegated from League Two, failed to pay players their wages last month.
Any players who have been released, who have another year outstanding on their contracts, will now have a claim against Aldershot should the club find new owners as football creditors must be paid in full.