Paolo Di Canio: Young 'playboy' professionals need guidance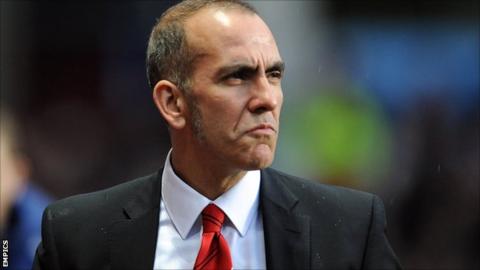 Sunderland manager Paolo Di Canio has said some young players have become "playboys" and need guidance to avoid burning out their promising careers.
The Italian pinpointed striker Connor Wickham as a case in point, with the England Under-21 international yet to establish himself on Wearside.
"Many of them need help, otherwise they're going to burn their potential out," Di Canio told BBC Newcastle.
"In a way the new generation are like playboys, like I say to Connor."
Wickham, has scored just two goals in 32 appearances and made only nine starts.
"It's obviously easy to lose sense of reality when you are 20, when you have £500, £600, £700 a week," Di Canio continued.
"They go from having no money, to having even £1,000 per week, £4,000 per month - it's a big change. They buy a new car like a Mercedes or something straight away.
"We have to be intelligent and help them to understand how to keep going as a professional."
One player setting an example has been Jack Colback, whose efforts in a variety of positions have impressed the former Lazio, West Ham and AC Milan striker.
"Jack away from the pitch he's a typical young lad, but when he trains he's one of the best professionals, he's focused, he wants to improve and he's intelligent," Di Canio said.
"You can see it reflected in his football, forget the individual quality, in terms of technique and potential, you can see he has hunger, he wants to become a well known footballer."