Europa League: Benfica claim they would have been worthy winners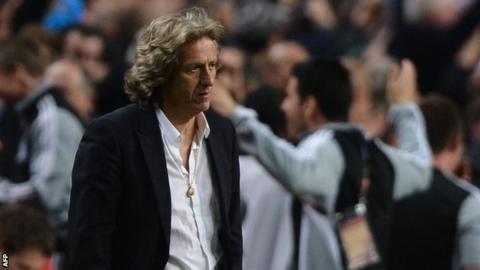 Benfica head coach Jorge Jesus believes his side would have been deserving winners of the Europa League final, which they lost to Chelsea.
The Portuguese club dominated for large spells in the Amsterdam showpiece but were beaten by Branislav Ivanovic's stoppage-time header.
"We showed we would have been worthy winners," said 58-year-old Jesus, who will now reflect on his future.
"For most of the 93 minutes we were better than Chelsea."
He continued: "Benfica were the better side today - more consistent and organised.
"Chelsea are a strong team, especially on the counter-attack, but in the first half we neutralised them.
"The game gave me pride to be in the final. Benfica showed the world they are a team with great quality and they should be proud."
Fernando Torres scored against the run of play to put Chelsea ahead on the hour but Oscar Cardozo's penalty deservedly drew Benfica level.
The game seemed set for extra-time, but Serbian defender Ivanovic rose to head in Juan Mata's corner. It was Benfica's seventh successive defeat in a European final.
The disappointment was compounded by memories of another injury-time loss, at the weekend against Porto, which knocked Benfica off the top of the Portuguese table with one game to play.
"It was just like last week," Jesus lamented. "We suffered a late goal.
"The players felt they didn't deserve to lose, they felt like they were [knocked] down after the game.''
Prior to the Europa League final, Jesus had been close to agreeing a contract extension with the club.
The veteran boss now revealed he was reconsidering his decision to stay in charge.
"I have a very close relationship with the president [Luis Filipe Vieira]," said Jesus, who was named Benfica head coach in 2009.
"I have been talking to him over the last few weeks about renewing my contract. We have agreed most of the details but football changes every day.
"This defeat will lead me to have some time to think about these issues."