AFC Bournemouth: Eddie Howe focused on Cherries challenge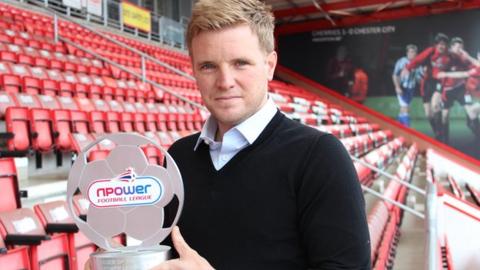 Bournemouth boss Eddie Howe says he is 100% focused on the Cherries, despite again being linked with other jobs.
Howe, 35, guided the Cherries into the Championship and has been named April's League One manager of the month.
"It's flattering, but from my point of view I am 100% focused on this club and will be for however long they want me," he told BBC Radio Solent.
During April, Bournemouth went on a club-record run of eight victories and one draw to seal promotion.
"It was a great end of the season and the players under the most extreme pressure really did perform so it's fantastic for everyone," he added.
Howe says it is crucial for them to continue that momentum as they return to the second tier of English football for the first time in over two decades.
And he believes the team he has can hold their own in the Championship but has vowed to bring in a couple of "quality" additions.
"We will look to play on the momentum we built up, a good pre-season will be key and hopefully the players will return hungry and fit and determined to prove people wrong," he said.
"We've got a very strong core group who can make that step up. We are going to be competing against some big teams so will be the underdogs, the small fish, but we can use that to our advantage as that is where we have been historically.
"Looking at the squad we've got some really good elements, but perhaps need to purchase in one or two areas.
"Overall we need to strengthen in all areas. We have a good team but we need to make the squad better.
"We need to add quality and not quantity and add some Championship experience as I think that will be important."