Stephen McPhail regrets staying at Cardiff City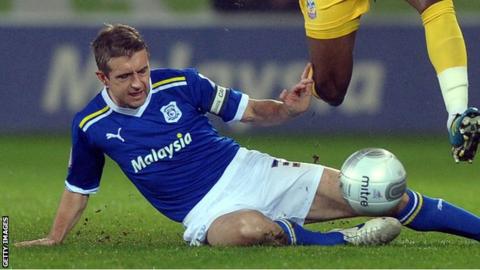 Midfielder Stephen McPhail says his final season with Championship title winners Cardiff City was the "worst of his career".
The Republic of Ireland international has ended a seven-year spell with the newly promoted Premier League club.
McPhail, 33, admits being frustrated at being sidelined for the Bluebirds' promotion push and regrets not moving away a year ago.
"I probably should have moved club in the summer last year," said McPhail.
"I was told I would be involved this year and that didn't materialise and that was disappointing.
"I want to be playing and as a footballer you don't want to be sitting on the bench, or sitting in the stand, because you want to be on the pitch and playing.
"It was a disappointing year and probably the worst of my career in terms of playing football, but it was great to see the club do well and progress."
McPhail had been dogged by injury and illness in his last few seasons at Cardiff City and did not play a league game this season.
His only two appearances for Cardiff this season was the Capital One Cup defeat at Northampton in August, in which he suffered a hamstring injury, and the FA Cup defeat to Macclesfield in January.
He was diagnosed with a form of lymphoma in November 2009 and then the autoimmune disease Sjogren's Syndrome.
The former Leeds United player had stated and manager Malky Mackay had said he was coach material.
McPhail made more than 200 appearances for Cardiff since moving on a free transfer from Barnsley in 2006 but was out of contract at the end of the current season.
He has no intention of retiring and has revealed that Championship clubs have shown an interest and there is the possibility of a move abroad to continue his career.
"I have made the decision to leave and look forward to a new challenge now," said McPhail.
"I had great years at Cardiff and it's been amazing. The fans have been unbelievable and the support has been staggering since it has been announced I am being let go.
"I have a lot of good memories but all good things have to come to an end.
"It's great the club are in the highest division and hopefully they can grow and get better and I will always keep a close eye on what they are doing."