Fleetwood manager Graham Alexander wants value for transfers
Last updated on .From the section Football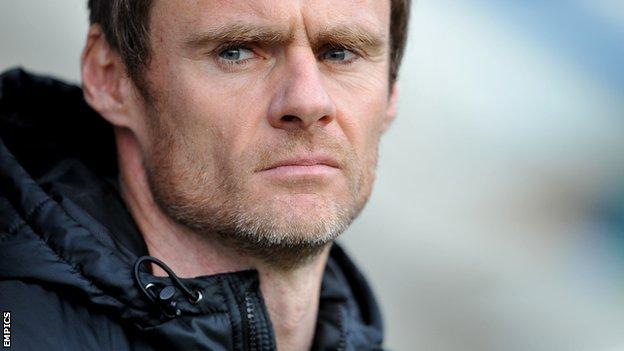 Fleetwood Town manager Graham Alexander has said he will focus his summer recruitment on free transfers.
became the Cod Army's first confirmed arrival on Monday.
"We're looking at lads we can get in for free at the moment because we think that's the right thing to do," Alexander told BBC Radio Lancashire.
However, the 41-year-old added that funds are available to spend on transfer fees for new players.
Fleetwood, backed by chairman Andy Pilley, have risen from the ninth tier of English football to the fourth in less than a decade.
High-profile names such as who joined on a three-month loan from Blackpool, appeared for the club in their debut League Two campaign.
In January, Town paid a from Conference Premier outfit Kidderminster Harriers.
Alexander is sure that Pilley's financial support will continue, but in an effort to reduce the size of his squad at Highbury, the Fleetwood boss has insisted that he will only ask for money if circumstances demand.
He continued: "If someone comes up and we can't get someone of a similar quality, I'm sure the chairman will be supportive of that.
"We can't just spend willy nilly. We have a structure in place and we want to stick to it.
"We'll take every player on his merits and, if he's someone that we can't afford to miss out on, hopefully we can do something to get them on board.
"The chairman is 100% supportive and we have to go the extra mile to get a player, he will go that extra mile for us, but we want to do it properly.
"We know we can compete [financially] with any club in this division and probably some above, but we're not going to go stupid and try to compete with Championship clubs because we'll get ourselves into trouble.
"We'll get players and a squad that we can't control."
To listen again to an hour-long special programme with Fleetwood Town manager Graham Alexander, visit bbc.co.uk/radiolancashire.