Baxter proves to be the chief in South Africa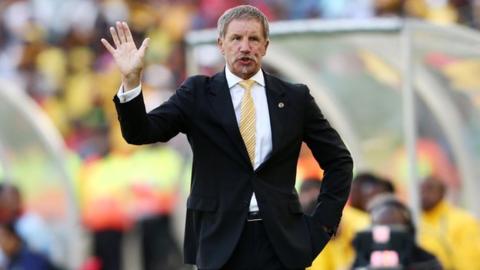 Breaking an eight-year title drought that has plagued South Africa's most popular football team in your first season at the helm is enough reason to smile broadly and gloat, more so when your coaching credentials have been questioned shortly after being appointed to the job.
But Kaizer Chiefs coach Stuart Baxter has been remarkably restrained amid wild celebrations from his players after the club clinched their first league title since the 2004-05 season with a 1-1 draw against three-time champions SuperSport United on Wednesday.
"People looked at my CV and said it's dodgy, and there's nothing I can do about that. My job coming here was to make sure the club is in a better situation than before, that's my job ethic. Should I be laughing at them now that we have won the championship? No, they are doing their jobs and I have to do mine," said Baxter.
"It's been a long and tough campaign which had humble beginnings.
"When we gathered for our pre-season preparations at the high performance centre in Potchefstroom we set ourselves humble goals of putting the smiles back on people's faces and creating a style of play that Kaizer Chiefs could be proud of.
"From then the campaign took a life of its own and things developed to the stage where we are now the champions."
It's a mark of the professionalism the 59-year old Englishman has instilled into his team that they celebrated their success on the Peter Mokaba Stadium pitch in Polokwane by spraying water rather than champagne on each other, wary that there is still the last league game of the season against Pretoria University to be played at the weekend and the final of the FA Cup against holders SuperSport United on 25 May.
Yet, when Baxter started his reign as coach of Chiefs - South Africa's most popular football club by some distance - the Wolverhampton-born coach could hardly have envisaged a tougher start.
He was still unpopular among the country's fans for failing to qualify Bafana Bafana for the 2006 World Cup during an 18-month spell in charge of the national team between 2004-05.
And sections of the media questioned the veracity of his CV, suggesting he had not won the league title with Japanese side Vissel Kobe in 2006 as stated.
Then Baxter's return to South African football got off to the worst possible start when his new team were thumped 4-1 by Mamelodi Sundowns in the first round of the league's season-opening top eight competition.
But Amakhosi, as Chiefs are popularly known to their massive legion of fans, bounced back immediately with a 6-0 thrashing of AmaZulu in the opening game of their league campaign, a victory that set Chiefs off on a 12-game unbeaten run.
They eventually lost 2-0 to second placed Platinum Stars, but have lost only one more this season.
"I'm particularly happy for the fans who have been brilliant this season," added Baxter.
"They've been patient having gone eight seasons without success and as someone told me: 'More than the medals on the table, look at the smiles at people's faces around the country to see what it means for Kaizer Chiefs to have won the league.
Leading the praises for the Englishman was former Bafana Bafana midfielder Doctor Khumalo, who is now assistant coach for the Chiefs.
"It all started during the pre-season build-up when Stuart made it clear to the players exactly what he wanted from them and how he wanted the team to play.
"He was careful not to tamper with the individual strengths of the players, so if a player was a good dribbler he would encourage that but he also emphasised that it should be for the benefit of the team. Stuart brought new ideas and made the players believe in themselves.
"He also made the players realise the importance of donning the gold and black of Kaizer Chiefs," added Khumalo, a Chiefs legend who won three league titles as a player between 1987 and 2004.
There is no doubt that Baxter has restored the smiles to the thousands of Chiefs fans around the country. And questions about his CV and his record with Bafana Bafana have, for the moment at least, been put to rest.