Gus Poyet: Brighton & Hove Albion continuing internal inquiry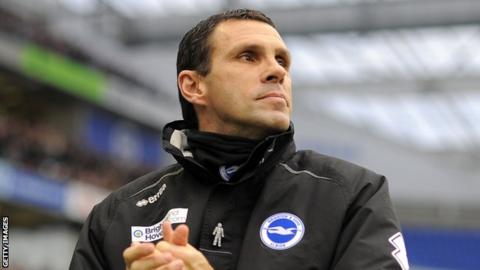 Brighton & Hove Albion chief executive Paul Barber says the club are continuing their internal investigation surrounding manager Gus Poyet.
The Uruguayan was suspended by the Seagulls earlier this month, along with his assistant Mauricio Taricco and first team coach Charlie Oatway.
"We are conducting these matters reasonably, in light of all the circumstances," Barber said.
"These processes will take as long as is necessary."
Barber, in a statement on the club website, added: "The club will not be making any public comment on the matter until we are in a position to do so.
"We are aware of some ill-informed and unfounded speculation appearing in various places. It is both unfair and unhelpful to everyone concerned.
"I appreciate that the issues we have had to face in recent weeks have created some uncertainty and concern for some of our supporters.
"Unfortunately, this is something we must all live with for the time being.
"Our priority will always be to ensure that we continue to manage the variety of situations that can develop within the club with as much confidentiality, professionalism, and dignity as possible for everyone concerned."
Meanwhile Barber says the Championship club are unlikely to identify who carried out an act of vandalism in the Crystal Palace dressing room ahead of the second leg of their play-off semi-final.
Brighton apologised to Palace for the incident, in which excrement was found in the visitors' dressing room. Eagles manager Ian Holloway later said it had helped motivate his side to win at the Amex.
"This issue generated very negative press coverage, inconvenience to our visitors for which we have apologised, as well as speculation and rumour, much of it exaggerated or untrue," Barber said.
"To be clear, the incident was confined to the floor and to the paper dispenser area of one cubicle in the visitors' dressing room toilets.
"No 'messages' were scrawled on the floor or anywhere else. And it remains a slight possibility that this was not a deliberate act of vandalism as attempts had been made to clean up the area before the issue was brought to our attention.
"Numerous club employees and contractors need access to the tunnel area of our stadium to do their jobs.
"There is no evidence that a member of the club's staff was responsible. Equally, we cannot be sure who was.
"Unfortunately, we are very unlikely to know exactly what happened, but access and security to the tunnel area have been reviewed and some changes will be implemented next season.
"It is now time to move on."