Greg Abbott waiting on out-of-contract Carlisle quintet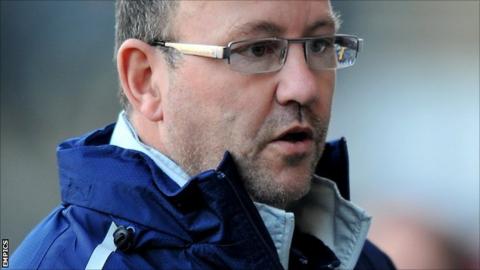 Carlisle United will not be signing any players until the future of out-of-contract players has been settled, according to boss Greg Abbott.
Lee Miller, Paul Thirlwell, Josh Todd, Danny Livesey and Matty Robson have all been offered new deals with their current contracts set to expire.
"There are no signings imminent because I need to know what we're looking for.
"We've spoken to lots of players, but we're not imminent," 49-year-old Abbott told BBC Radio Cumbria.
"I can't do too much until I've got definite yes and nos, as it would be pointless hypothetically spending £200 a week on a player when I could spend £600 if one of our players doesn't re-sign."
"We've got a list of players ready, but we need definite outcomes."
Miller, in particular, has been a big successat Brunton Park since his August 2011 move from Middlesbrough, scoring 23 goals in 60 games.
His return from injury last December helped lift the Cumbrians away from the relegation zone as he provided a focal point for United's attack.
"As a manager what you've always got to be prepared for is that players will leave your club, and if they do, you've got something in place to replace them.
"We've probably released two teams of players that would walk into anybody's first team in League One, and we've managed to recover after that, so if Lee does go we've got a proven track record that we can cope without him," said Abbott.
"I'd love him to stay, but there's not just Lee who has admirers, there are other players that have been offered who have admirers as well.
"So we've got to be prepared for that, we've managed to deal with that in the past and keep the club in decent shape and order."