Hearts: Andy Webster discusses new contract at Tynecastle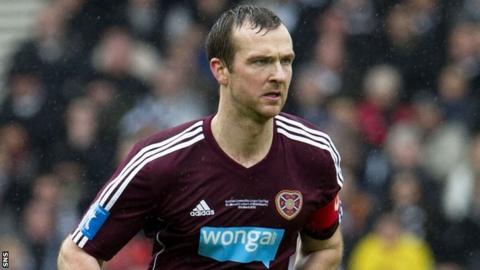 Hearts defender Andy Webster is in discussions about extending his stay at Tynecastle.
Webster, now in his second spell with the Edinburgh side, is out of contract at the end of the season.
"Andy's been talking to [director of football] John Murray and with his agent," said Hearts manager Gary Locke.
"I'm hopeful that Andy will see his future here but that's a decision that he's to make and once he makes it we can move on."
Webster, 31, has won 28 caps for Scotland and was part of Hearts' Scottish Cup-winning side last season.
"He's an important part of the football club, he's an experienced player, something that we've not got a lot of, to be fair," Locke added.
"I think that's one thing that the squad needs, a little bit more experience in it just to help the younger players."
Captain Marius Zaliukas, another nearing the end of his contract, is returning to fitness and may feature in Hearts' final match of the season against Aberdeen on Saturday.
"He's a great lad, an infectious character at the club," said Locke of the defender.
"He'll certainly come into my thoughts for the weekend because if he does go [in the summer], he deserves to see the fans for one last time."
Meanwhile, Locke is hoping for "a busy summer in terms of trying to get players into the club".
"There's players at the club that we're trying to keep, there's players at the club that we're trying to move on," he explained.
"These players know the financial situation, they've had offers. I don't know what's going to happen there but hopefully they'll make a decision soon because it'd be nice to get their future sorted out.
"If we do that then we can look at other targets and hopefully try and get things moving in the summer."