Manchester City: Patrick Vieira takes on new coaching role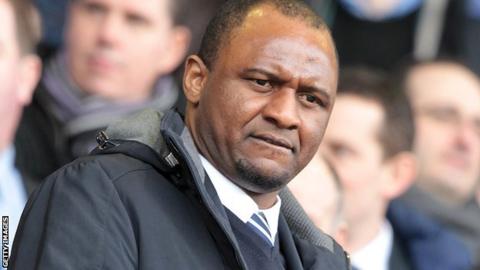 Patrick Vieira has been named head of the elite development squad at Manchester City as part of the club's restructuring of the coaching staff.
The former midfielder, 36, spent the last two years as the Premier League team's football development executive.
Vieira replaces Attilio Lombardo, who was one of six coaches to leave the club following Roberto Mancini's dismissal on Monday.
"This marks a new chapter both in my career and in my life," said Vieira.
"After spending two years working across a number of areas of the club and with a particular focus on the Youth Academy, I feel honoured and privileged to have been offered this role.
"My passion for the development of young talent has only grown in my time at City and I am pleased to be able to play my part in helping to shape the footballing future for Manchester City."