David Beckham retirement: roll call of great clubs proves his quality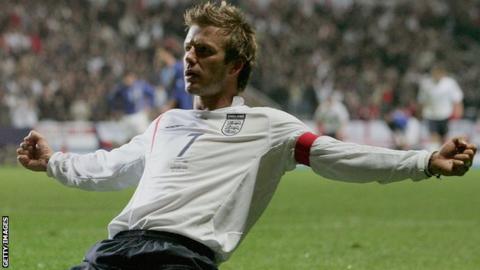 Simple facts most eloquently state the case for David Beckham's status among the leading footballing figures of the age.
Beckham's CV is a roll of honour of Europe's greatest clubs. Cynics may point to Beckham's limitations but he was special enough to play for Manchester United, Real Madrid, AC Milan and latterly Paris St-Germain, as well as LA Galaxy, and that counters any argument.
These names provide a powerful answer to anybody daring to doubt that Beckham - whether or not you approved of the celebrity circus that often surrounded the 38-year-old and Spice Girl wife Victoria - is one of the game's towering personalities and players.
And as he announces his retirement after a short title-winning spell at PSG, Beckham can reflect with pride on a career that truly burst into the public consciousness when Old Trafford's pin-up boy struck a remarkable goal from the halfway line against Wimbledon at Selhurst Park on the opening day of the 1996-97 season.
Beckham's enduring career and global profile ensure his decision to leave the game will make headlines around the world. The fascination remains as strong as ever. The instant tributes from all areas of the football community reflected the magnitude of Beckham's contribution.
He was always at pains to stress that, despite the A-list lifestyle, for him it was all about football and he takes his leave as one of the most decorated individuals to have graced the game.
Beckham won six league titles at Manchester United as well as two FA Cups, the highest of many highs coming in the Nou Camp in May 1999 when the Champions League was won against Bayern Munich with injury-time goals from Teddy Sheringham and Ole Gunnar Solskjaer. It gave Sir Alex Ferguson's side the historic Treble of the league, FA Cup and Champions League.
He left Old Trafford for Real Madrid after his relationship with Ferguson soured - notably when Beckham was accidentally struck in the face by a football boot kicked by his manager following an FA Cup defeat at home to Arsenal in February 2003.
Beckham won La Liga in Spain and the MLS with LA Galaxy before the final triumph as he played an admittedly peripheral part in PSG's first French Ligue 1 title since 1994. He is the first British player to win titles in four countries - tangible evidence of a professional life played out on the widest stage.
As a player it can be argued Beckham never fell into the bracket of the greats. He never possessed serious pace but a magnificent passing range, allied to dead-ball brilliance and his relentless professionalism and work ethic made him an outstanding player. He was a master of dictating tempo and was blessed with natural football intelligence.
For club and country, this was a career encapsulating highs and lows, a career lived out in blazing headlines and the clicking of camera shutters.
Beckham was portrayed as the nation's villain when he was sent off for kicking out at Argentina's Diego Simeone in the 1998 World Cup in France as Glenn Hoddle's England lost on penalties in the last 16.
It took Beckham time to work his way back into the nation's affections but it was accomplished with aplomb. He holds more outfield caps - 115 - than any other England outfield player and testimony to his popularity came when he was presented with a commemorative cap at Wembley for reaching his century of international appearances.
The great United and England statesman Sir Bobby Charlton received a similar accolade at the friendly against Belgium in June, but it was Beckham who was afforded the bigger ovation.
Beckham was also elevated to the status of England's football saviour when his last-minute free-kick earned a draw against Greece at Old Trafford and secured their place at the 2002 World Cup in Japan and South Korea.
And this is where we alight upon perhaps the great disappointment of Beckham's career. He never truly adorned a major tournament in the manner he would have wished.
He was still in the process of recovery from a metatarsal injury in Japan and performed disappointingly. Beckham was similarly off-key at Euro 2004 in Portugal two years later, cutting a jaded and lightweight figure, missing crucial penalties in the group-stage defeat by France and in the quarter-final loss on penalties to the hosts.
When Sven-Goran Eriksson's England suffered a similar fate in the World Cup in Germany two years later, Beckham had already succumbed to an ankle injury and he ended the tournament in tears at England's Baden-Baden headquarters, relinquishing the post of captain given to him by caretaker manager Peter Taylor in 2000 in an emotionally charged news conference.
Perhaps he sensed the writing was on the wall with the appointment of new coach Steve McClaren but he demonstrated the fires still burned by recovering from being dropped by the new man to regain his place.
Beckham made his final England appearance in a win against Belarus in 2009 but a serious Achilles tendon injury sustained during his time on loan at AC Milan meant his only involvement in Fabio Capello's disastrous 2010 World Cup campaign in South Africa was as a member of the Italian's support team.
He has always displayed an impeccable sense of timing and it was clear he was no longer functioning at the highest level with a tired display for PSG in their recent Champions League meeting with Barcelona in Paris.
The range of passing remained but Beckham was by-passed most of the time and he could not control these games as he had once done - a perfectly understandable consequence of the passage of time. He has pitched his departure perfectly, leaving happy memories of a PSG title win.
Those of us who watched him at close quarters over many years and tournaments with England - and maybe even those of us who shared concerns he was occasionally in danger of becoming more style than substance - have nothing but admiration for his ability to communicate with fans. In this context, he was above criticism.
Beckham was always the focal point of an England visit to any point on the globe. In Japan in 2002 Beckham-mania strayed close to hysteria but he was the perfect ambassador. He was always willing to give time to fans who swamped England's base hoping for a glimpse of him, and his interaction could not be faulted.
He was unfailingly courteous, polite and professional in his media duties and was the perfect front man for the Football Association and England as they travelled the world.
The tears in Baden-Baden demonstrated how much playing for England meant to him and it will be one of his regrets that he never claimed that first major trophy for his country since the 1966 World Cup. On reflection, Euro 2004 might be regarded as the great missed opportunity.
Beckham's football career - hugely distinguished and successful - may be over but it will not be long before the next chapters in the story are written.