Aberdeen manager Derek McInnes targets new goalkeeper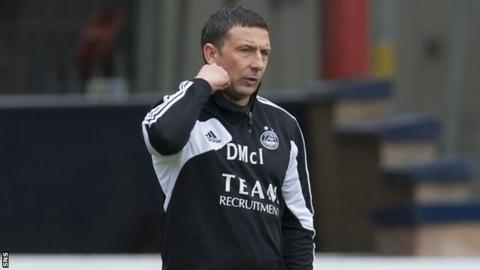 Aberdeen manager Derek McInnes wants to sign a goalkeeper to challenge regular first choice Jamie Langfield.
German stopper Dan Twardzik is one of
Langfield, 33, has been at Pittodrie since 2005 and McInnes feels youngster Danny Rogers "isn't quite ready" for the first team.
"You've got to have two keepers on your books that you're really confident can go in and play a role," said McInnes.
"We just felt, for loads of reasons, young Dan [Twardzik] wouldn't have that impact with us next season.
"He probably needs to go and get games elsewhere, potentially at a lower level.
"Young Dan Rogers isn't quite ready to step in and we will be looking to try and bring in a good goalkeeper and a goalkeeper that can challenge Jamie Langfield for that position."
McInnes does not expect to replace all of the players who will be moving on and hopes younger players can fill any gaps.
"There won't be the same amount of players coming in," he admitted. "Finances dictate that.
"I'm hopeful that some of the younger ones that have been mentioned in recent weeks will stake that claim to be part of that first team squad and bolster it.
"Any club is grateful for having good youngsters coming through and certainly we are. It's only potential but I'm confident there's a few players there that I have a level of trust in that can go in.
"They will be an important part of our first team squad going forward."