Stephen Lowry stays at Coleraine after turning down Linfield offer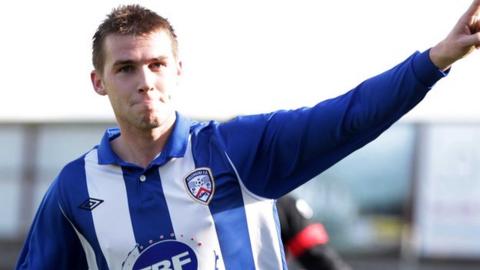 Midfielder Stephen Lowry has decided to stay at Coleraine after turning down an offer from Linfield.
Lowry looked poised to join his brother Philip at Windsor Park after Coleraine accepted a bid from the Blues.
However following talks with Linfield, Lowry has opted to remain with the Showgrounds club.
"I wanted to hear what Linfield had to say and I thought long and hard about it but ultimately I felt more wanted by Coleraine," said Lowry.
"The way the press reported it last week was if I'd already signed, but it was a huge decision for me to make," Lowry told Coleraine's website.
"I have really enjoyed my team and (manager) Oran (Kearney) has been a big part of that.
"He made it clear that he never wanted to lose me and offered me the extra year on my contract.
"I'm happy that all this is over and I can just focus on the football again and on having a successful season with Coleraine."
Kearney described Lowry's decision as a "massive coup for Coleraine".
"I don't think it was ever a case of Stevie actively wanting to leave and his gut feeling told him that Coleraine is the best place for him to play his football."
Coleraine have also revealed they have agreed new contracts with three of their players - but long-serving defender Kyle McVey has played his last match for the club.
Gareth Tommons, Paul Owens and Craig Moore have signed contract extensions.
Coleraine said they had offered McVey a new one-year deal two weeks ago, which included a testimonial to mark a decade of service..
However, they claimed the player stalled on the offer and entered into negotiations with another Premiership club without informing them.