FA's five-match racism ban shows 'lack of leadership'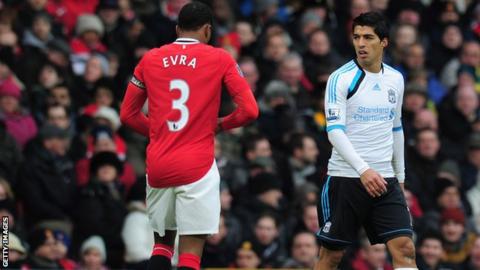 Jason Roberts has accused the Football Association of showing a "lack of leadership" in tackling racism.
From next season, those found guilty of discrimination will face a minimum five-match ban under new FA rules.
Uefa wants 10-game suspensions for first offences, but the FA will only impose such bans on repeat offenders.
Roberts wrote: "The last 18 months regarding equality at the FA has seen bad decisions, lack of will, lack of consultation and lack of leadership."
The Reading striker, 35, also tweeted: "While Uefa propose a 10-match ban for racism, the FA decides on five! Who do they consult on these decisions? Certainly not the players."
Roberts, who spoke to FA chairman David Bernstein about the issue last year, added: "Poor decisions on high profile cases, a weak 92-point plan and now five game bans confirms it is left to the players concerned to effect change."
In November 2012, Roberts refused to wear a T-shirt for the anti-racism campaign 'Kick It Out', saying the FA had to go further in stamping out the problem.
Piara Powar, executive director of European anti-racism body Fare and a member of Fifa's new anti-racism taskforce, also criticised the FA - which announced its new disciplinary regime on Thursday - for not planning to hand out suspensions of more than five games.
"It is a shame when the FA has already sanctioned a player, Luis Suarez, for more than five matches for racism.
"One of the biggest concerns is inconsistency and mixed messages."
FA chairman David Bernstein defended the decision not to follow Uefa's lead, saying the five-game ban had been agreed by all parts of the English game including Kick It Out.
"From our point of view it [a 10-match ban] has no subtlety to it. Any racism is unacceptable but there are different levels of offence," Bernstein said.
"It's also a timing issue. I don't think it's a coincidence that since the FA has been working on this package there's been an acceleration of activity in Uefa and Fifa.
"I think we can take some credit for leading the way."
The FA will reserve the right to extend bans if offences have any "aggravating" features.
Charges will be brought in the event of discrimination on the field of play relating to ethnic origin, colour, race, religion or belief, gender, gender reassignment, sexual orientation, ability and disability.
In addition to being suspended, offenders will also have to undergo mandatory education on anti-discrimination issues.
Powar added: "It's progress to have a minimum sanction, but sanctions for players appear to be made up on the hoof.
"Why is [the punishment for] biting 10 games [the recent ban given to Suarez] and [the one for] racism five games?"
Kick It Out said in a statement: "The new five-game threshold is an improvement, though one which will stir debate, particularly amongst those on the receiving end of any form of discrimination.
"Provided Uefa follows through on its proposals for longer bans of 10 games, it is at this point that the game must review, and look to synchronise its efforts."
Bernstein, who steps down as FA chairman in July, said the English governing body would "re-evaluate" their sanctions if "European football says the line is in the wrong place".
The Uefa executive committee will vote on their new proposals in London on 22-23 May and, if passed, the ruling could apply to all Uefa competitions - including the Champions League and Europa League - from as early as July.