David Beckham: World's press full of praise for ex-England skipper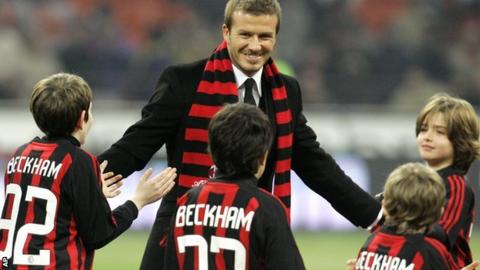 Newspapers around the world have been lavishing praise on David Beckham after the former England captain announced his intention to retire from football at the end of the season.
Plenty of tributes have been coming in from the various countries where Beckham has played during an illustrious career spanning almost 20 years.
But his global reach means there are also plenty of commentators elsewhere with something to say as the 38-year-old prepares to hang up his boots.
In the United States,USA Today has particular praise for Beckham's time at Los Angeles Galaxy: "When he moved to LA, the European soccer establishment rolled its eyes, but he made a success of it, silencing the Doubting Thomases!"
In LA Galaxy's home town, however, the LA Times is more restrained, reflecting the struggle football - or soccer, as it is known in the US - faces in competing with the traditional big three US sports: American football, baseball and basketball.
But the paper's website does have a video of some of the "amazing" free-kicks Beckham conjured up during his career.
"Beckham's free-kicks were a sight to behold, with the ball streaking into the net with a speed and right-to-left arc that looked like a Zack Greinke curveball," it says, referring to a former pitcher for the LA Dodgers baseball team.
Over in Spain, where Beckham plied his trade with Real Madrid for four years, sports paper Marca is also effusive about Beckham's skills. "Elegance and London 'glamour' are losing one of their main exponents," it reports. "Countless precise shots and magical free kicks, all accomplished with the particular aesthetic quality of Beckham's game."
"The first footballer to become an icon of the big brands is retiring," the paper adds.
Beckham also spent a couple of brief loan periods with AC Milan in Italy. In the Rome-based La Repubblica, Enrico Franceschini strikes a wistful note: "Football is losing its last superstar. Perhaps the only one, because there are plenty of champions, but only one David Beckham.
"Ciao, Becks. Or rather, see you soon, outside the stadium, where he will continue to be the richest footballer - oops, ex-footballer - in the world."
In France, where Beckham is playing out his last few games with Paris St-Germain, Le Monde chooses to home in on his global advertising presence: "The footballer is leaving, but the brand remains," it says in a headline.
"David Beckham is more than a dazzling football star, he's a social phenomenon," it adds. Beckham had "extraordinary spatial awareness and brilliant technique", but "the personality of David the Magnificent transcends his talent by a long way".
Elsewhere in Europe, Germany's top sports paper Kicker celebrates Beckham's career with a picture gallery as its top story. "Divine crosser, Spice Boy, advertising icon, record-breaking player, Olympic ambassador - during his glamorous career, Beckham took on more than one role," is the way the paper sums up his career.
Top German tabloid Bild says Beckham's retirement marks the end of a "gigantic career". It points out that, in winning this season's French title with PSG, Beckham has become the first English footballer to win championships in four countries.
"A worthy end for a player who, because of his glamorous lifestyle and his frequent appearances in advertising, was often mocked as a footballing fashion model," it adds.
The website of German news weekly Der Spiegel strikes a similar note, calling Beckham the "king of football pop".
"Beckham created a type of sportsman that had never existed before," it says. "Beckham was more than a footballer - much more."
Meanwhile, Hungary'sNemzeti Sport notes that Beckham's statement comes only a few days after similar announcements from fellow Manchester United legends Sir Alex Ferguson and Paul Scholes.
"He was the king of free-kicks, who sweated blood for victory if he had to," the website says. "Off the pitch, he became a style icon, an exemplary family man and a unique superstar."
Further afield, Russian website Sovetsky Sport names five reasons why Beckham is the "most famous footballer in the universe", including his working-class origins, the fact that he "learnt to play football pretty well", his marriage to pop star Victoria Beckham, his move to Los Angeles and his "transfer to Real Madrid for the sake of advertising contracts".
The Gazeta.ru news website picks up on this last point.
"Today Beckham is a brand," it says. "He has even managed to become part of cinema history, having played Beckham in 'Bend it Like Beckham'. Today's stars are dreaming of bending it like Beckham and of becoming a brand like he is."
Meanwhile, in China, news of Beckham's decision to end his playing career instantly became one of the top stories on the country's giant micro-blogging platform, Sina Weibo.
On its Weibo account, Zhujiang Evening News, a big regional paper, suggests Beckham's popularity may have been fuelled by something other than his trademark crosses and free kicks.
"He may not have been the most outstanding footballer in the world, but he is definitely a star for most female fans."
In similar vein, China National Radio describes Beckham with a Chinese term that translates as "the man with whom 10,000 people fell in love".
BBC Monitoring reports and analyses news from TV, radio, web and print media around the world. For more reports from BBC Monitoring, click here.You can follow BBC Monitoring on Twitter and Facebook.