Arsene Wenger 'fancies' Arsenal v Chelsea Premier League play-off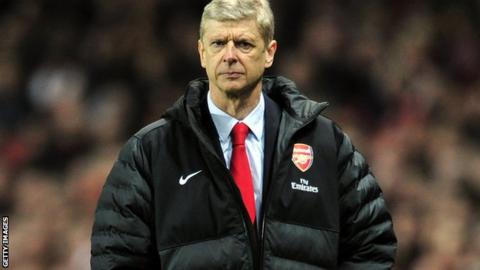 Arsenal manager Arsene Wenger admits he would relish a third-place play-off against Premier League rivals Chelsea.
The London clubs could end the season with identical records if Chelsea draw 0-0 and Arsenal win 2-1 on the final day of the season.
The play-off winner would automatically reach the Champions League group stage.
"I would fancy that," said Wenger. "But a play-off only exists if we win at Newcastle, so we have to win the game and see what happens."
Arsenal, who are currently fourth and two points behind Chelsea, travel to St James' Park on Sunday, while the Blues host Everton at Stamford Bridge.
Any draw for Chelsea, along with the Gunners scoring two more goals in a one-goal winning margin, would leave the pair level on points, goal difference and goals scored after 38 games.
"The biggest task is to win the game and not speculate too much on what happens after," said Wenger. "The first compulsory part is winning our game."
Arsenal know they are guaranteed a top-four place - clinching Champions League qualification for the 16th consecutive season in the process - if they beat 13th-placed Newcastle at St James' Park.
But anything less than a win could allow Tottenham, who must better Arsenal's result, to snatch fourth place.
The Gunners were seven points behind their north London rivals after a 2-1 defeat at White Hart Lane in March. But Wenger's team have gained the advantage over Spurs after failing to lose any of their last nine top-flight matches.
"We are on a very strong run and know how to behave to win the games," said Wenger.
"I had a feeling Champions League qualification could go down to the last day.
"We are in a position where nobody expected us to be. We have our destiny in our hands.
"I'm confident my players will be rewarded because they have showed mental strength through the difficult periods of the season.
"When we were under severe pressure they worked very hard and together."
Wenger also denied speculation the Gunners were preparing a transfer bid for Manchester United striker Wayne Rooney, who wants to leave the Premier League champions.
"At the moment we have no interest in anybody," said the Frenchman. "We only have one interest and that is Sunday's game.
"I don't know if Manchester United will sell Rooney.
"That's the best sign to show we have not made an approach for him. The first thing to do is to call Manchester United, which we have not done."
Meanwhile, Wenger said Arsenal are close to signing Auxerre striker Yaya Sanogo, 20.
"Talks are at an advanced stage but it's not done," said Wenger. "I'm very confident. He is a young striker with promise and he is a big talent."