Nicola Cortese: Terry Paine urges Southampton chairman to stay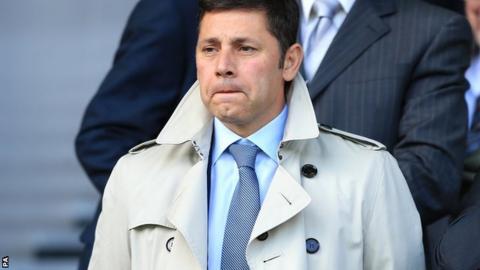 Southampton president Terry Paine is the latest figure to come out and back Saints chairman Nicola Cortese in his battle with the club's owners.
Cortese has threatened to leave St Mary's if issues relating to the club's future strategy are not resolved with the Markus Liebherr estate.
And Saints legend Paine dismissed the notion that the club could just find another chairman to replace him.
"Southampton cannot do without Nicola Cortese," Paine told BBC Radio Solent.
It is understood Cortese is seeking guarantees over his future and clarification about the way the owners, Liebherr Trust, want to run the club.
Cortese is currently allowed final approval on all major decisions and he is concerned this may change.
The 44-year-old has overseen Southampton's rise from the foot of League One to the Premier League.
The club record appearance maker and 1966 World Cup winner Paine believes his departure would see the club return to where they started when he arrived in 2009.
"The chairman has made two or three brilliant decisions that may not have looked like it at the time but now it has come to fruition and we realise just what impact he has had and thank goodness for that," added Paine.
"We do not want to be back to them old dark days where we were three years ago.
"He has taken us to where we are now by making some great decisions and some difficult decisions. We cannot rest on our laurels because he is the only one with the vision to take us further, that is why he has brought in the new manager. That is another part of his vision.
"He just can't leave. I believe if he leaves then in three years we will be back where we started [League One]."
On Thursday, manager Mauricio Pochettino said it "would not make sense" for him to stay at the club if Cortese left St Mary's.
It was a sentiment echoed by Saints player of the year Morgan Schneiderlin and Paine believes Pochettino and his team are serious about their threat to leave.
"It is a fact," said Paine. "The manager has said he will leave and you can understand that.
"He [Cortese] has set out a plan for the manager, he has brought him on board. He [Pochettino] won't be short of jobs as he is a top, top coach. That was a coup in bringing him in and if he leaves then we will be back to square one."