Coventry City: The search for the Golden Share goes on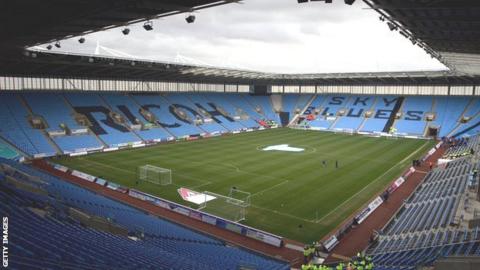 Administrator Paul Appleton admits that the job of trying to offload up-for-sale Coventry City has been made harder by continued confusion over the ownership of their Golden Share.
He has now officially put part of the League One club up for sale and the only confirmed bidder so far is American tycoon Preston Haskell IV.
"It is very complicated," Appleton told BBC Coventry & Warwickshire.
"There are a lot of competing claims. There's a lot of competing evidence."
Haskell's consortium's deal depends on acquiring the Golden Share, entitling membership of both the Football League and the Football Association.
And, almost two months on from being appointed, having already run up a bill in excess of £300,000 in administration costs, Appleton admitted to Sky Blues fans at a meeting on Thursday that he is still to discover which body of the club owns that all-important Golden Share.
"One person says this, one person says that. And we just have to do our job," added Appleton.
"We're looking all the way back to 1995. But, until we have all that information, it's not something we can resolve in a short period of time."
Coventry City FC Ltd was put into administration in late March with debts of £60m. And, despite club owners Sisu's claims that it was actually Coventry City FC Holdings Ltd who owned the Golden Share, the Football League thought otherwise.
They ruled that CCFC Ltd were the owners, docking the Sky Blues the statutory 10-point penalty for entering administration. But Appleton is yet to concur.
Jan Mokrisky, from the Sky Blues Supporters' Trust, the group of fans met by Appleton on Thursday, said the meeting left them with "grave concern" for the club's future.