David Moyes says Phil Neville could be a successful coach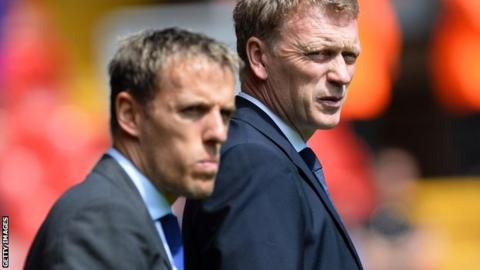 Everton boss David Moyes says appointing Phil Neville to a coaching role would be a good move for any club.
Defender Neville, 36, is leaving Goodison Park at the end of the season but wants to extend his playing career.
Moyes was answering questions on whether Neville may join Everton's coaching staff once Moyes has become Manchester United manager.
"Phil could take a job up anywhere and he would be a good choice for any club," said Moyes.
The former Manchester United and England left-back will be part of Stuart Pearce's coaching team with the England Under-21 side at this summer's European Championships.
"Phil Neville's a great man," added Moyes. "He is someone who has been a great player, a great ambassador for the club and he is really good at what he does."
Moyes takes charge of Everton for the last time after 11 years in charge when the Toffees face Chelsea on Sunday before he succeeds Sir Alex Ferguson at Old Trafford.
Neville is not surprised that Moyes has become Manchester United's new manager.
"Somebody told me when he signed for Everton 11 years ago, his main ambition was to manage Man United eventually when he was good enough," Neville told BBC's Football Focus.
"David's ambition has come through because of his determination to succeed.
"There is no other club in the world he could have left for where Evertonians, although disappointed, are saying 'This man deserves a shot at the top'. He has got that in joining the biggest club in the world."