Chelsea are 2014 favourites, says Spurs boss Andre Villas-Boas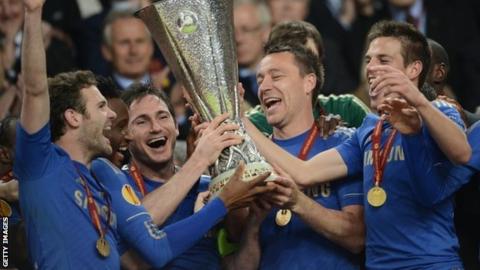 Tottenham manager Andre Villas-Boas has named former club Chelsea as favourites to win the 2014 Premier League title.
He argues a possible return for ex-boss Jose Mourinho and managerial changes at Manchester's top-flight clubs will strengthen Chelsea's position.
"Chelsea next season will absolutely be the team to beat," said Villas-Boas.
"Bearing in mind the manager change and the manager that we expect to come in. Plus they will be strengthening an already very good squad."
Chelsea can already call on the attacking talents of Oscar, Juan Mata and Eden Hazard and interim boss Rafael Benitez claimed, after winning the Europa League, his successor would have £100m to spend in the summer.
Villas-Boas was sacked by Chelsea last year after just nine months in charge, but has since enjoyed a successful spell at London rivals Tottenham.
The Portuguese manager is, however, still chasing the target set by his club chairman Daniel Levy, who wants to see his side qualify for the Champions League.
Tottenham must beat Sunderland in the final Premier League matches on Sunday and rely on Arsenal dropping points at Newcastle if they are to finish fourth in the table, and claim the final Champions League spot.
Should Spurs finish outside the top four clubs - Manchester United, Manchester City, Chelsea and Arsenal as things stand - then Villas-Boas says Tottenham will have to invest in new players over the summer.
"I think what it represents, if we don't achieve it, is one more sign that you have to push up to get closer to that group," he added.
"Whenever that group is competing for titles, the reference of points will be higher and you have to improve and you have to get more points the next time.
"Our step at the moment is to be into the Champions League, probably not title contenders but we hope to be competitive next season if we manage to do things properly in the summer.
"You have to strengthen for next season to get a higher tally of points. I think we have a group of players that attract other players to come here."
Villas-Boas did not rule out a move for 31-year-old Barcelona striker David Villa, the latest player to be linked to the north London club.
"He's one of the world's best strikers, but at the moment we are focused on trying to get the fourth spot," said Villas-Boas.
Tottenham's main goal this summer is to hold on to 25-goal forward Gareth Bale but Villas-Boas said he did not know if the highly-rated Welsh playmaker was any closer to agreeing terms.
"I'm not sure, our interest is for the player to continue here and I've made that very clear," he said.
"I have said this numerous times; we are pretty confident we will be able to keep him."