Mario Balotelli: AC Milan striker happy to be out of England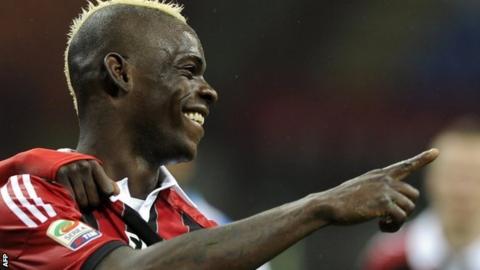 AC Milan striker Mario Balotelli says he is happy to have put his time in England behind him.
The Italian moved back to his homeland following a controversial two-and-a-half year spell at Manchester City.
The 22-year-old also defended his much-publicised lifestyle, insisting that his love of women and fast cars is just "normal".
He told CNN: "I'm really happy now. I can relax and find my privacy, more than in England, where I was alone."
Balotelli joined AC Milan from City in January for £19m, soon after a training ground altercation with then manager Roberto Mancini.
His time in England, following a move from Inter Milan, was marred by a series of on and off-field incidents.
But he added: "Some things have happened in my life, some stuff unfortunately happens and they went in the newspapers straight away. But I don't see anything that would make people think that I'm bad or I'm crazy. I'm a normal guy.
"When you create an icon of a person in that kind of way, after everyone thinks you are like this and if you lie about it, everyone just thinks that it is all true. So maybe that's why they think I'm crazy and do crazy things.
"But I'm not here to talk about if I'm unfairly treated. I don't care. I'm out from England, I'm happy that I'm out from England. That's it."