Swansea boss Michael Laudrup seeks Michu striker support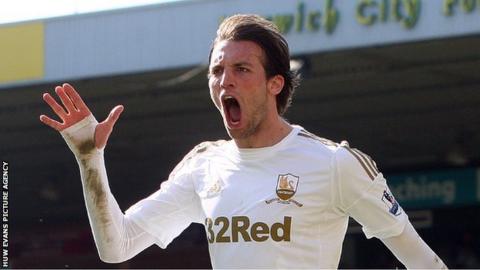 Swansea City manager Michael Laudrup says he wants to sign another striker to help share the goalscoring burden with Michu next season.
The 27-year-old signed as an attacking midfielder last July but mainly played up-front, finding the net 22 times.
Spaniard Michu, a £2.2m signing from Rayo Vallecano, picked up four prizes at Swansea's annual awards dinner.
"Without him we would have been struggling, he's been so important, goals are important," said Laudrup.
"We cannot think that he will repeat that," the Dane added. "We're talking about an offensive midfielder who can play up front, but scoring more than 20 goals is not normal.
"So we will have to find some alternatives because we cannot put so much pressure on one player's shoulders.
"We need to strengthen in different positions. I don't want to go into details, but it is no secret I think we need some alternatives for scoring goals."
Real Betis midfielder Jose Canas and Celta Vigo striker Iago Aspas have been linked with moves to the Liberty Stadium.
While admitting the Swans cannot compete financially with richer clubs in the Premier League, Laudrup says he has his board's support as he seeks to strengthen his squad.
"There is an understanding of the players we want, the board know we need to strengthen the squad just to stay where we are," Laudrup said,
"The teams below us in the table will spend heavily to try and get to where we are.
"The names we are talking about, some of them are not expensive, we are not going to sign [Manchester City and Argentina striker Sergio] Aguero or [Liverpool and Uruguay striker Luis] Suarez.
"But we have to do it quickly and almost secretly because the moment other clubs in the Premier League get a feeling Swansea are going for a player they might decide they want him as well and that makes it difficult for us.
"But if none of our regular players leave then I think there will be between five and seven players coming in."
knowing a win combined with West Bromwich Albion losing to champions Manchester United would see the Welsh side finish eighth in the table.