Sir Alex Ferguson criticises 'amazing' Roberto Mancini sacking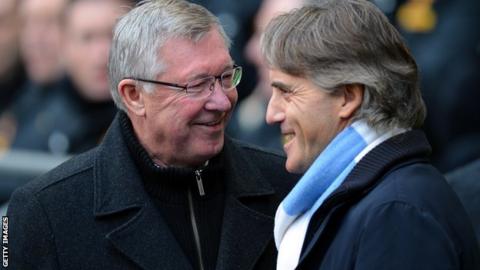 Sir Alex Ferguson has criticised Manchester City over the sacking of Roberto Mancini.
Mancini was dismissed by the club on Monday but Ferguson, who retires after Sunday's game against West Brom, has sympathy with his old rival.
It comes as a full-page advert from Mancini appeared in Saturday's Manchester Evening News.
The Italian has always had a good relationship with fans and thanked them for their support during his tenure.
The ad says: "Manchester City Supporters 3 unforgettable years, you will always be in my heart, ciao, Roberto Mancini," and features a picture of him with the Premier League trophy, FA Cup trophy and Community Shield, all of which he won during his time at the club.
But Ferguson believes Mancini's sacking was tough on the Italian.
"It was quite amazing. He has won the FA Cup, been in the final, second in the league and won the league and it's not good enough?" he said.
"I was surprised, but actually no, you can't say you are surprised not with some owners today. You can't be surprised, but I still don't think it was right."
David Moyes will take over at Old Trafford after 11 years at Everton but Ferguson believes that he can carry on the success they have enjoyed under his reign, despite what may happen at the club the Scot once described as 'the noisy neighbours'.
"What happens at Man City won't have any bearing on David," he added.
"He's got the structure here and he's got the experience. He's had to handle things at Everton that are more difficult probably. I don't think that matters.
"I think the enormity of the club will be the most difficult aspect, he will soon realise that anyway.
"The global brand and number of sponsors we have, he has to fit into that. I don't think that's an issue though and the most important thing is the team.
"He's got a good squad of players and he will want to add to that. He will have his own ideas and that's good. He will be fine."