Southampton: Nicola Cortese to stay on as club chairman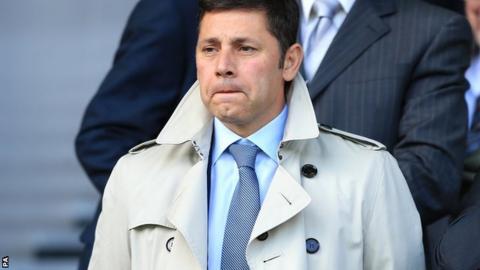 Southampton's executive chairman Nicola Cortese has reached an agreement that secures his future at the club.
A deal was struck in Zurich on Friday after a week of talks with the club's owner Katharina Liebherr.
The agreement ends doubts over Cortese's future after a week in which manager Mauricio Pochettino said he would follow his chairman out of St Mary's were he to leave this summer.
"I am pleased that this matter is now resolved," Cortese said.
"We are now in a position to move forward with our ambitious plans for the club," he added.
Key players had also hinted that their futures would be open to question were the 44-year-old Cortese to leave.
"The last few days have shown me the unity that we now have across the club in the players, the first team manager, the staff and the chairmanship which normally takes years to achieve," said Cortese.
"I have always believed that to create this unity would make us a very strong club and it is a unity of which I am unashamedly proud. "
Cortese had been considering his position amid talks to resolve differences with the trust that owns the club.
He was thought to be seeking guarantees over his future and clarification about the way the owners Liebherr Trust wanted to proceed.
Cortese is currently allowed final approval on all major decisions.
The Italy-born Swiss bought the club in 2009 on behalf of Markus Liebherr, a wealthy Swiss investor, to lift the south-coast club out of administration.
When German-born Liebherr died suddenly in 2010, the club said "well-laid plans that Liebherr and Cortese mapped out over a year ago will continue to be implemented uninterrupted".