David Beckham in talks with MLS to purchase franchise
Last updated on .From the section Football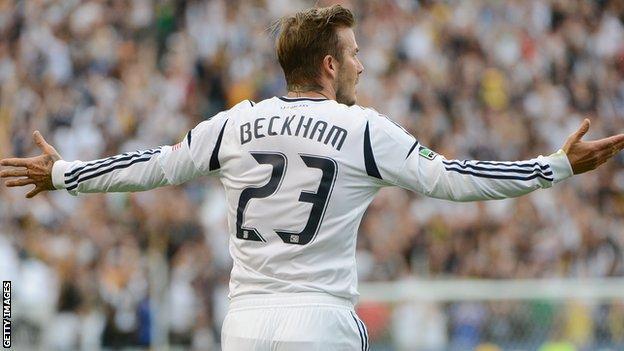 David Beckham's representatives have held talks with Major League Soccer over the former England captain purchasing a new club in the US.
When Beckham joined Los Angeles Galaxy in 2007 his contract included an option to purchase an "expansion franchise".
In 2009 Beckham said: "I have the right to own a franchise, which I will action immediately after I stop playing."
MLS executive vice-president of communications Dan Courtemanche said: "There have been preliminary discussions with his advisors.
"At some point in time he will exercise that option and we can go through the process of making sure it is the perfect fit for David and Major League Soccer, but we are not there yet."
The BBC reported in December last year that Beckham had already been approached by two MLS clubs over an ownership role.
MLS has 19 teams and plans to add a 20th club in New York City, with Manchester City owner Sheikh Mansour reported to be the likely buyer.
The south-east of the US is currently without an MLS team, and Miami has reportedly been considered as one of the possible locations by Beckham's team. His contract explicitly rules out New York City as a location.
Beckham's fee to purchase a new franchise has been reported as $25m (£16m), well below the recent entry fees for other expansion clubs.
When his contractual opportunity to own an MLS team was first disclosed in 2009, Beckham reiterated his "commitment to develop soccer in the United States".
Beckham's advisors include his management team Simon Fuller's XIX Entertainment, who also manage Formula 1 driver Lewis Hamilton and tennis player Andy Murray.
Prior to his retirement, Beckham committed himself to long-term ambassadorial roles for Sky television, and to promote football in China.