Manuel Pellegrini: Malaga sad to lose him to Man City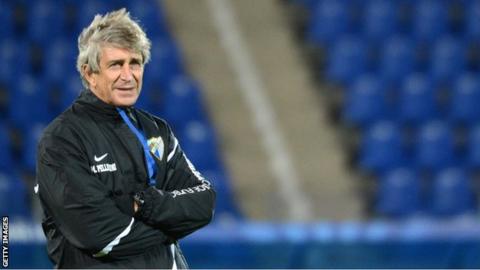 In a small seafood restaurant in central Malaga, Rafael Aguilar is a concerned man.
The small and stocky middle-aged proprietor is not worried about this week's takings or even the threat of snow in the region for the first time in 75 years.
Aguilar is instead bothered about his friend, Manuel Pellegrini, who seems ready to give up the sunshine of southern Spain for the drizzle of Manchester.
"He won't get his favourite seafood dish in Manchester and the cured meats just won't be the same," he says of the 59-year-old Chilean.
Three years ago Pellegrini sat down in this very restaurant and signed a deal to take over the city's struggling football team.
He has returned regularly ever since and the pair have become good friends.
Pellegrini, who seems likely to join Manchester City at the end of the Spanish season, joined Malaga only months after being shown the door by Real Madrid - sacked for having the audacity to be pipped to La Liga title by arguably the best Barcelona side in history.
Before that he spent time with Villarreal, transforming them from a small provincial club to Champions League regulars.
With the financial muscle of new Qatari owners behind him, he took on the Malaga challenge and led the club, not only into the Champions League for the first time, but to the last eight.
It's little wonder then that Rafael's sadness is shared by many of his fellow citizens who have come to idolise the man known as 'The Engineer'.
Pellegrini's nickname comes from having a degree in civil engineering rather than any industrious approach to football management, but he has certainly built himself a reputation.
"He is a god here in Malaga," said one fan clutching an autograph book outside the club's state-of-the-art training ground.
They all speak of a quiet, polite man who always stops for pictures with fans before heading up the coast to his home in Marbella.
So is his quiet manner and studious attitude towards life and football reminiscent of Arsene Wenger at Arsenal, who has come to be known as 'The Professor'?
While local football commentator and broadcaster Paul Breen-Turner thinks there are several areas of similarity between the coaches, he says they are by no means identical.
"The difference I think between him and Wenger is that Pellegrini will always be cool and calm with the media no matter what. I have never seen him agitated.
"Pellegrini has real presence. He says very little but what he says is always worth listening to."
But is his quiet approach really suited to managing a club which have become known in recent years as Manchester United's noisy neighbours?
"I'm convinced Pellegrini will be a success in the Premier League," Breen-Turner said.
"He has managed some of the very best players in the world and certainly has an eye for fresh talent too."
Those thoughts are echoed by Malaga midfielder Lucas Piazon, who is on loan from Chelsea.
"He will be a success wherever he goes," the Brazilian said. "He always gets the very best out of players and his tactics are always correct.
"Will he go? You will have to ask him but if he does it will be a huge loss to Malaga."
Pellegrini has broken his silence only to deny that a deal has been done, but no-one in Malaga has any doubt that he is heading to England.
His job at Etihad Stadium may not be simple but it will be spelled out to him in no uncertain terms - win the Premier League title and the Champions League.
He has experience of dealing with Middle Eastern owners but his new bosses will not settle for second best.
If reports of Pellegrini are to be believed though, it is a challenge that won't faze him.
In Manchester, the man who takes it all in his stride will certainly find a fresh challenge.
But he may have to look a little harder for the fresh fish.