PFA backs Notts County racism probe after two coaches quit
By Alistair Magowan
BBC Sport
Last updated on .From the section Football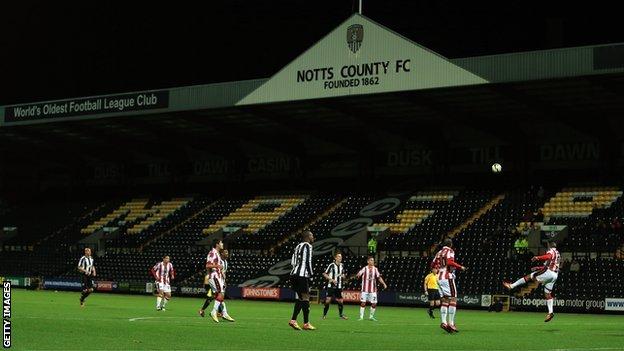 Players' union chief executive Gordon Taylor says he is satisfied with the way Notts County dealt with allegations of racism against two youth coaches who have resigned.
Two youth players alleged that Brett Adams and Lee Broster made racist comments to black players, with the claims corroborated by team-mates.
League One Notts County would only confirm that the coaches had resigned.
Taylor said: "The club did all they could to listen to the complaints."
County looked into the case after the accusations were made last month. The allegations made by the black players involved were backed up by statements from white and black team-mates, added Taylor, boss of the Professional Footballers' Association.
After an internal disciplinary hearing and a second meeting at which the PFA were present, Notts County said the two coaches had quit the club.
Adams was a youth team coach with the club's academy while Broster is listed on the club website as a technical skills coach.
Taylor said that the PFA had recently stepped up its work in encouraging young players to report bullying, intimidation and racism.
The Society of Black Lawyers issued a statement saying it had "formally reported the incidents to the Nottinghamshire Constabulary as 'racial incidents' and has called for the arrest and prosecution of these two men for racially aggravated public order offences".
Former Notts County player and coach Michael Johnson, who worked with both coaches during his time at the club between 2009 and 2011, said he was "shocked and stunned" by the allegations.
"Having known the coaches, I'm really disappointed in them both," he said. "That age group is where a youngster is in an environment where they are learning and are being educated. So if they are subjected to that, and it's true, it is worrying.
"I haven't witnessed that behaviour before [from them] and I was shocked and stunned to hear the news. I would never have seen something like that coming.
"They would have been the last two, I thought, to have been involved in racism and bullying. I've witnessed nothing like that at the club before.
"It is black and white players here who have stood up and we have to give credit to these young boys because they could have been worried about the effect it might have on their futures.
"But let's get this right; they have been the victims and all they have done is to be brave enough to stand up for themselves."
Notts County manager Chris Kiwomya is one of five black managers in the Premier League and Football League. Keith Curle and Paul Ince, now Blackpool boss, have also been in charge at the club.