Everton boss David Moyes desperate to sign off in style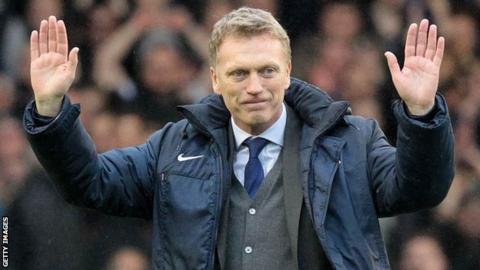 David Moyes wants to break Everton's record Premier League points total in his final match at the club before taking over at Manchester United.
A win at Chelsea, where the hosts need victory to wrap up a Champions League group phase place next season, would trump 2007-08's 65-point haul by one.
Despite Everton being guaranteed sixth place, Moyes - who will succeed Alex Ferguson - wants to finish in style.
"We want to try to get a record points total if we can," said the Scot, 50.
After news emerged that he was bringing an end to his 11 years at the Toffees, Moyes was given a rousing farewell by the Goodison Park crowd last weekend as Everton beat West Ham 2-0.
"We finished the game off very well last week," said Moyes.
"That has put us in a league position where we can't go any further up or any further down."
A sixth-place finish will not be enough to earn Europa League football next season because both League Cup winners Swansea and FA Cup victors Wigan will not finish in the top five.
"In the year we qualified for the Champions League (2005), the points we have (this season) would have been enough to get us there," said Moyes, who joined Everton from Preston in 2002.
"But we don't even make Europa League football this year, which is really tough on us.
"It was something we really wanted to drive for, to get back to European football.
"I thought it was something we needed as a football club, so we are disappointed to miss out on that, and it was only maybe one or two weeks ago that we were beginning to think we probably wouldn't make the Champions League - we had always thought we had an outside chance."
Sunday's match at Stamford Bridge will also be Chelsea's interim manager Rafael Benitez's last match in charge.